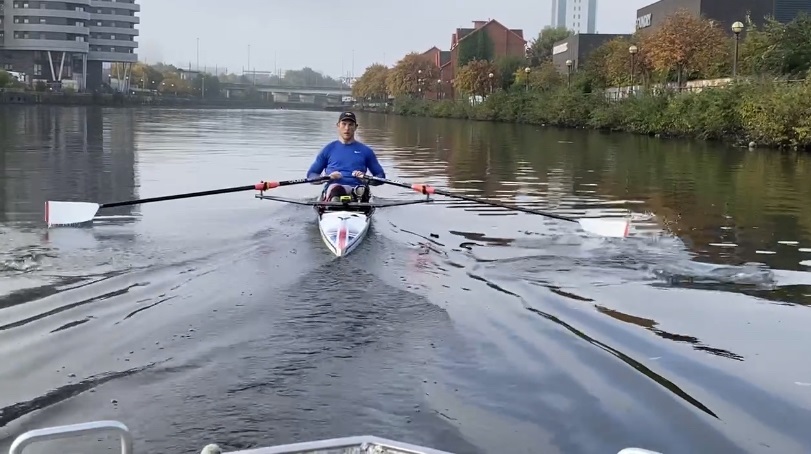 Birthday boy Gregg Stevenson – formerly Lead Physical Training Instructor and Mental Health Practitioner at the Trust's Specialist Rehabilitation Centre (SMRC) - helped win the World Rowing Championships PR2 mixed double sculls in Belgrade on Saturday, qualifying for the Paralympics in Paris next summer in the process.
The veteran, from Foulridge, near Burnley, joined Double Paralympic champion Lauren Rowles as they won a tight race, pulling away from China in the final strokes to cross the line first to continue their dominance in this boat class this season.
Back in May, the pair won the European Championship in Slovenia in a world-record time, and the following month broke that mark to take gold in the World Rowing Cup II in Varese, Italy.
Gregg, celebrating his 39th birthday as one of five British gold medallists on Saturday, said: "I've never been in such a tight race - every other race we've managed to get out front. But that was something else, I was filled with adrenaline, and we stuck at it together. I'm really glad we managed to get the win."
The former Royal Engineer is a double amputee after losing his legs to an IED blast while on patrol in Helmand Province in 2009, when he was referred to the SMRC at Preston Business Centre and fitted with the world's most advanced bionic high-tech Genium X3 knee, which works with Wii gaming technology - worth £70,000.
Gregg ended up working in the gym at SMRC - which provides specialist wheelchair, prosthetic limb and orthotic rehabilitation services throughout Lancashire and South Cumbria – before becoming Gym Assistant Manager, and then Lead Physical Training Instructor, and then progressing to be a Mental Health Practitioner.
Gregg took up rowing in 2012, going on to compete at the Invictus Games in 2014, and he has been rowing with the Paralympic programme since December 2018, training in Caversham near Reading.
Injury ended his hopes of competing in the Tokyo Paralympics, however, thanks to the OP Courage service and continuing care from SMRC, he has been able to step down to part-time hours, working remotely, while he pursued his goal of qualifying for Paris 2024.
You can find out more about Gregg's rowing journey here, where he spoke to the Trust Communications team in January about his dream: https://www.lancsteachinghospitals.nhs.uk/news/article/473