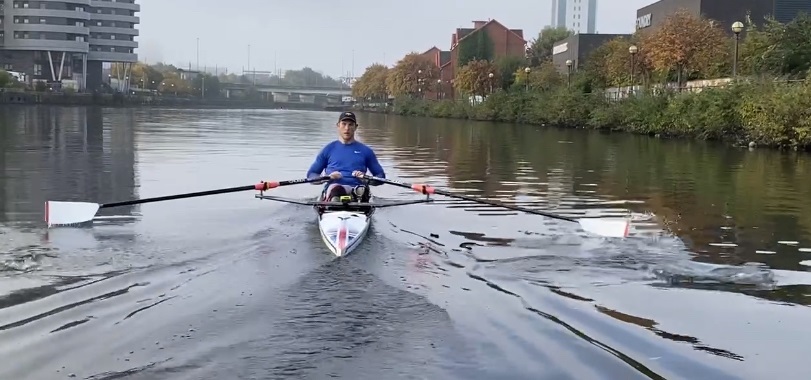 Veteran Gregg Stevenson is hoping to make the plane for the 2024 Paralympics in Paris, having been helped along the way by Lancashire Teaching Hospitals NHS Foundation Trust's Specialist Mobility Rehabilitation Centre.
Gregg, from Foulridge, near Burnley, was seriously wounded in Kajaki, Helmand Province, Afghanistan in 2009, losing both legs, his left above the knee.
He was referred to the Trust's Specialist Rehabilitation Centre (SMRC) at Preston Business Centre for support, and was fitted with the world's most advanced bionic high-tech Genium X3 knee, which works with Wii gaming technology - worth £70,000.
Following his referral, Gregg ended up working in the gym at SMRC - which provides specialist wheelchair, prosthetic limb and orthotic rehabilitation services throughout Lancashire and South Lakeland – earning some qualifications, before becoming gym assistant manager, and then lead physical training instructor, and progressing to be a Mental Health practitioner.
Now, with NHS Op Courage Veterans High Intensity Service North – and fresh from celebrating success at the National Positive Practice in Mental Health Awards for his pioneering crisis cards mental health aid for veterans – he has his sights set on gold next summer.
Having been with the Paralympic programme since December 2018, training in Caversham near Reading, he saw hopes of competing in the Tokyo Paralympics ended through injury. However, thanks to the Op Courage service and continuing care from SMRC, he is stepping down to part-time hours, working remotely, while he pursues his goal of qualifying for Paris 2024.
A busy man, Gregg, who also completes a Masters in psychology with Bolton University this year, spoke of his journey: "In 2009 in Afghanistan I stepped on an IED on a routine patrol – I'd pushed into a compound looking to supervise cover as we were getting shot at, and it all happened so quickly.
"After getting support from the SMRC I've been really well looked after, and to have consistent care has really helped me – as you can see, I'm a daily limb user, I just crack on and I'm able to work, chase after the kids and go on the Turf (Moor) to watch Burnley!"
The care he has received from SMRC, and his subsequent involvement in the gym and as a Mental Health Practioner, has played a huge role in allowing him to be independent, giving him the opportunity to look after his two young children.
He said: "I'm very grateful, I have two boys, 10 and 8, I'm married, live in Foulridge where it's fairly rural, we're always out on bikes, walking, and it's not that these things can't be done in a wheelchair, but when you have an opportunity to receive prosthetics and have continuing care, it's a big help. The prosthetics have been upgraded, around five years ago I was the first in the country to get this, and I can't ask for more from the NHS.
"They've really pushed the boundaries, and found the funding within the veterans' scheme to get a leg which enables me to chase around after the kids!"
Having himself come to SMRC, needing support, and seeing his own mental health and fitness improve, Gregg had something of a light bulb moment: "I had this hypothesis, I was adamant , I'd been through it, I wanted to get up early in a morning, kick the doors down, not just survive. I had that feeling of being alive, which I'd missed.
"I really got interested in mental health, seeing people come in with low mood, high medication, not really progressing, and I was trying to put a theory to why some people were kicking on, and some weren't.
"I rolled that into working within the NHS with their Op Courage service set up. I saw the job advertised in Leeds, and thought it was my niche. It was a real win-win. I became veteran liaison supporter for the north region, along with working my way up as a mental health practitioner."
To add to his workload, Gregg has been involved with British Rowing for a number of years now: "About three years ago I had an opportunity to have a trial, and unbeknownst to me I was pretty good - I was doing a lot of cross fit at the time, and I spent a year on a programme.
"Laurence Whiteley (MBE, double Paralympic gold medallist) got the seat and won gold, and I had a good pop at him, but fair play to him, he went and won.
"Then about six months ago he announced his retirement from rowing and I got a call saying, 'you've got two years, do you fancy a go?!'
"I'm the only male in my category, I've learned the hard way, nothing is a given, but only an injury really can keep me out. I'm happy to get stuck in and do the hard work and see where it takes me.
"I'm training as much as I can with the full-time squad for the 2,000m, in my category there is a male and female rower, so it's an interesting category and keeps the field small – for a country to have a male and female rower in the same category who can train together. Lauren (Rowles) is a double gold winner as well, so she will make sure my standards are high.
"If I could pull it off, I did all the hard work in the army, and it ended quickly, so this for me would be massive.
"There's a qualification period in March, and the World Championships in Belgrade in September, where if you come in the top five, you get an automatic slot in the final race."
Good luck Gregg – everyone at Lancashire Teaching Hospitals and the Specialist Mobility Rehabilitation Centre is rooting for you!