Disabilities
We are committed to making our hospitals accessible to everyone and are continuously working to improve access to all our services and facilities.
AccessAble
AccessAble provide a detailed online guide to our facilities to better enable disabled people to access our services, and make decisions before they arrive to our sites. It gives information that you need to work out if the place you are going to has the facilities that you need and where they are, this includes car parking, the width of doors, the height of sinks, nearest toilet facilities etc. If you have mobility requirements and need assistance please inform your consultant or nurse, or contact PALS our patient advice and liaison service for support.
If you wear a hearing aid or have hearing difficulties, please advise your consultant or nurse how you prefer to be communicated with.
Some wards and departments have listening devices or a loop system. We can also provide a sign language interpreter on request, and we use a web-based sign language communication programme.
Changing Places (both sites)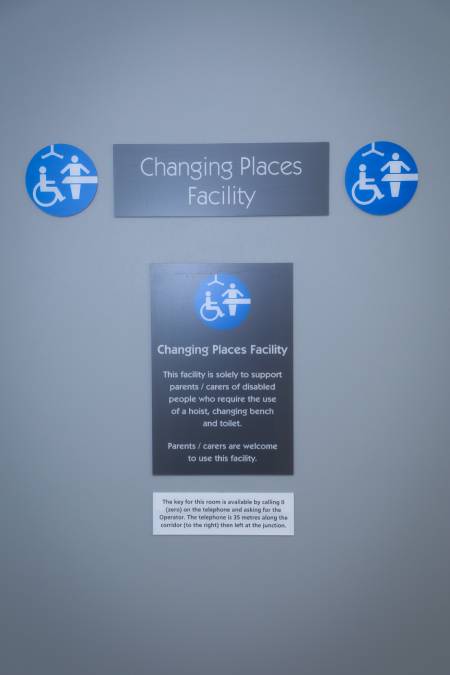 People with profound and multiple learning disabilities, as well as people with other physical disabilities such as spinal injuries, muscular dystrophy and multiple sclerosis often need extra equipment and space to allow them to use the toilets safely and comfortably. These needs are met by Changing Places toilets.
At Chorley Hospital:
the Changing Places facility is located on the third floor opposite the podiatry clinic.
On the Chorley Hospital Site map, podiatry is number 57
Our site-maps for both Chorley and Preston are available on this page and are updated regularly
To access the facility you will need a key, it is a generic key which opens the door, many patients carry this with them because it opens disabled toilets in public places. However if you or the patients do not have access to this key, there is a message on the Changing Places door with the necessary information. To get the key, use the adjacent phone to ring the switchboard team, switchboard will then give the family a code for a lock box next to the room which also has a key in for access.
At Preston Hospital:
The changing places facility is located on blue street opposite SDEC or Same Day Emergency Care, again to access the facility it is the same process as Chorley. SDEC is number 8 on Blue Street.
Our site-maps are available on this page and are updated regularly