Social Value
Social value is defined as the positive impact an organisation creates for society through its actions and operations.
As a leading local employer and anchor institution in Lancashire and South Cumbria, Lancashire Teaching Hospitals has a significant social, economic and environmental impact on the local community during its day-to-day activities.
The Trust is committed to ensuring that it makes a positive impact, or at least reduces any negative impact that it has on the local community. This is one of the reasons why the Trust has made several pledges to ensure that it delivers on its commitments by applying for Social Value Quality Mark accreditation.
Social Value Quality Mark Accreditation
Social Value Quality Mark accreditation is a system designed to cultivate and recognise the highest known standards in values-led business. There are 4 levels of accreditation, each acknowledging an increasing level of commitment. The Quality Mark was created to assist organisations to legitimately demonstrate social impact and value claims. It also helps organisations align themselves to the (Public Sector) Social Value Act 2012.
As part of the Trust's commitment to being a socially responsible and values led organisation, the Trust has successfully achieved Level 1 Social Value Quality Mark accreditation and is committed to achieving the successive levels of accreditation.
As part of the accreditation, the Trust has made several pledges to promote employment, training and work experience opportunities with local people, procure goods and services from local suppliers, reduce its environmental impact, and work with local partners to improve inclusion, health and wellbeing and representation from local people in the work of the Trust.
Our Social Value Pledges and Commitments as an Anchor Institution
As part of the Trust's Social Value Quality Mark accreditation, it has committed to delivering on its commitments through several pledges.
This includes a commitment to:
Improve the health and wellbeing of all our local communities in Lancashire and South Cumbria.
Address the social, economic and environmental priorities that affect our local communities.
Reduce the health inequalities and social isolation that affect the wellbeing of our patients and local communities.
Offer a range of employment, training and development opportunities that will support local people into employment.
Reduce the environmental impact that the Trust has on local communities.
Work towards a fairer society.
Increase representation from underrepresented and hard to reach groups.
Provide our patients and local communities with the very best patient experience and care.
You can read more about each of these pledges and the Key Value Indicators we have set to measure our progress in the Social Value Pledges and Key Value Indicators overview.
Mission Statement
Lancashire Teaching Hospitals will carry out value-based actions and activities to help tackle health and socio-economic inequalities, making lives fairer with improved quality and inclusivity for our communities, businesses, patients, and workforce.
Theme Selection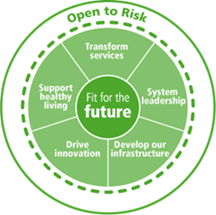 The pledge themes selected were identified to align with our strategic ambitions, especially those within the "Fit for the Future" section of our Big Plan, which sets out the strategic direction of the organisation. This ambition encompasses the supporting healthy living agenda and social value. The themes selected compliments current service provision in delivering excellent care with compassion to our patients and supporting the workforce as a conscientious employer.
Themes selected for Social Value Pledges and Key Value Indicators development were:
Economic and Procurement
Education and Skills
Employment and Volunteering
Environmental
Health and Wellbeing
Leadership
Social and Community.
Pledge and Indicator Development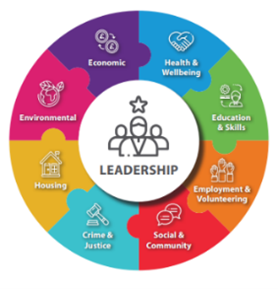 Each theme has a designated lead who is responsible in overseeing the delivery of their pledge. Each pledge has been developed using SMART principles and consultation with internal and external stakeholders. We have listened to our local communities and stakeholders and feedback from the consultation has influenced our final social value pledges and key value indicators.
Monitoring
The Trust will monitor and demonstrate our commitment to delivering social value by embedding tools for monitoring, measuring, and reporting on social value outcomes through a social value monitoring group, as part of our organisational processes.
Reporting

The Trust will communicate our social value outcomes internally and externally, ensuring meaningful engagement with our local communities and stakeholders. A bi-annual social value board report will be produced to underpin our social value commitments and verification of further social value accreditation.
Where can I find more information?
For more information on our Social Value and Anchor Institution work at Lancashire Teaching Hospitals, please contact Tracey Calvey at tracey.calvey@lthtr.nhs.uk.
Useful Information
Social Value Quality Mark accreditation overview
The Health Foundation: The NHS as an Anchor Institution