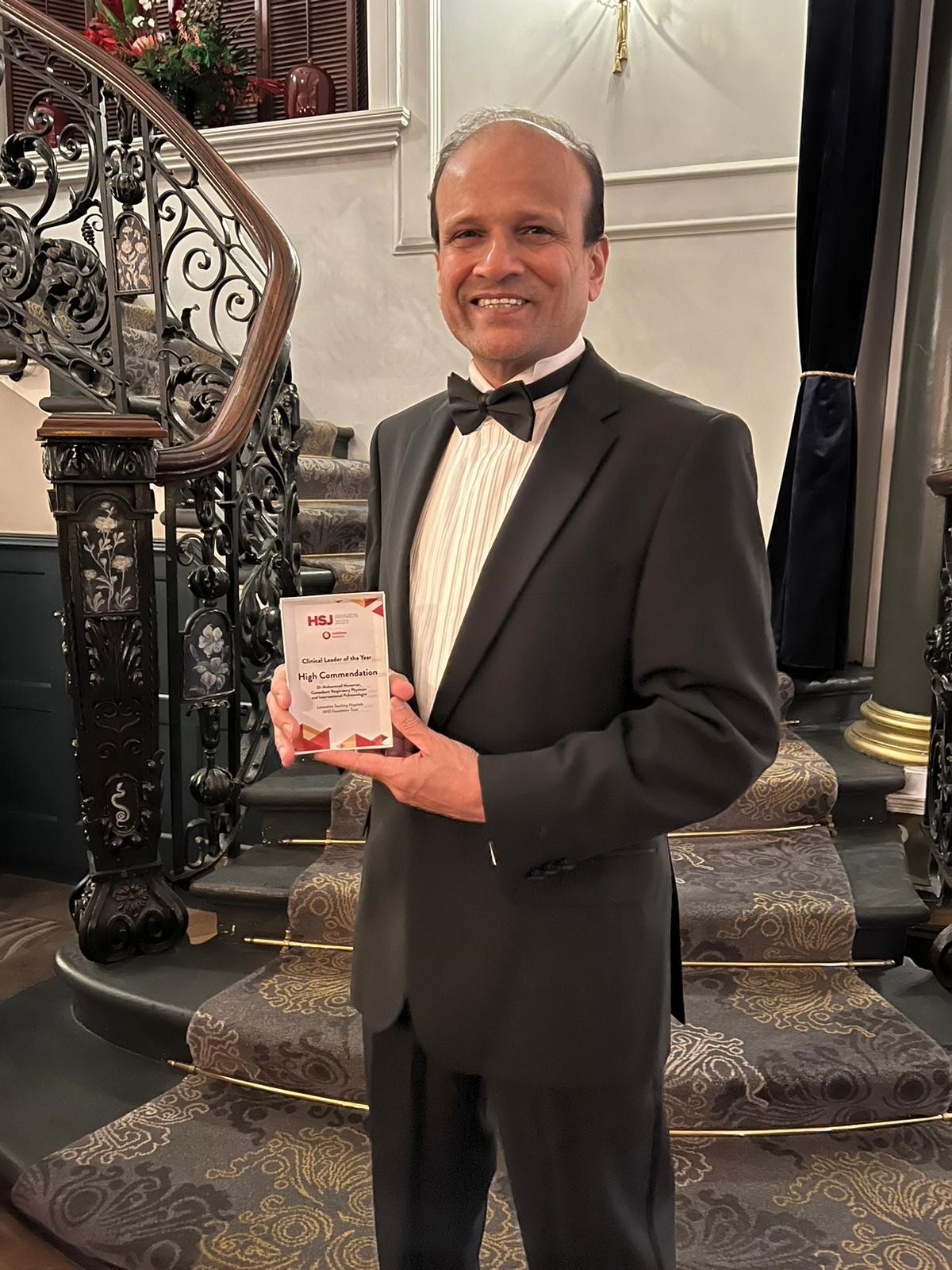 Lancashire Teaching Hospitals is delighted to announce that Consultant Chest Physician Professor Mohammed Munavvar has been highly commended in the 'Clinical Leader of the Year' category at this year's Health Service Journal (HSJ) Awards.
The award was announced at a glittering ceremony held in London last night (16th November) and is one of the most prestigious and coveted awards across the NHS.
This year the event was supported by headline partner, Vodafone Business and was hosted by comedian, Matt Lucas, who led the way in celebrating the commitment of hard-working teams and individuals across the UK's health service.
Professor Munavvar was awarded the accolade for his outstanding work in the fields of research, innovation, service transformation and for being a recognisable figurehead in supporting key Government and NHS England messaging across local and national media.
Commenting on his award, Professor Munavvar, who has worked at Royal Preston Hospital for over 30 years, said: "It is a huge honour for me to win this award. I am extremely humbled and enormously grateful to be nominated. I receive fantastic support from my team and I couldn't do what I do without them.
"This award is the result of a tremendous team effort over the years and I would like to say a big thank you to my team and the Executive Management team for their continuous support. This award may be in my name, but it is as much their award as mine."
Welcoming news of the award, Dr Gerry Skailes, Chief Medical Officer at Lancashire Teaching Hospitals, said: "We are extremely proud of Professor Munavvar and I could not be more pleased for him to receive the recognition he deserves. He is a truly outstanding and dedicated clinical leader and for him to win this award and gain national recognition is simply fabulous."
The HSJ Awards are one of the most esteemed accolades of healthcare excellence in the UK. They highlight best practice and excellence within the healthcare sector and provide the opportunity to recognise the fantastic achievements of the people working in the UK's health and social care workforce.
The HSJ Awards are overseen and judged by a panel of distinguished industry professionals and Professor Munavvar's achievements stood out amongst a very impressive shortlist.
Professor Munavvar was also a finalist in the Modernising Diagnostics Category for his work, alongside a core group of colleagues, in introducing the world's most advanced lung cancer diagnostic equipment to the UK. This work was achieved in partnership with the Rosemere Cancer Foundation, with whom he has secured funding to the tune of about half a million pounds in the last two decades.
The full list of Winners and those Highly Commended for the 2023 HSJ Awards can be found at: https://awards.hsj.co.uk/winners-2023.