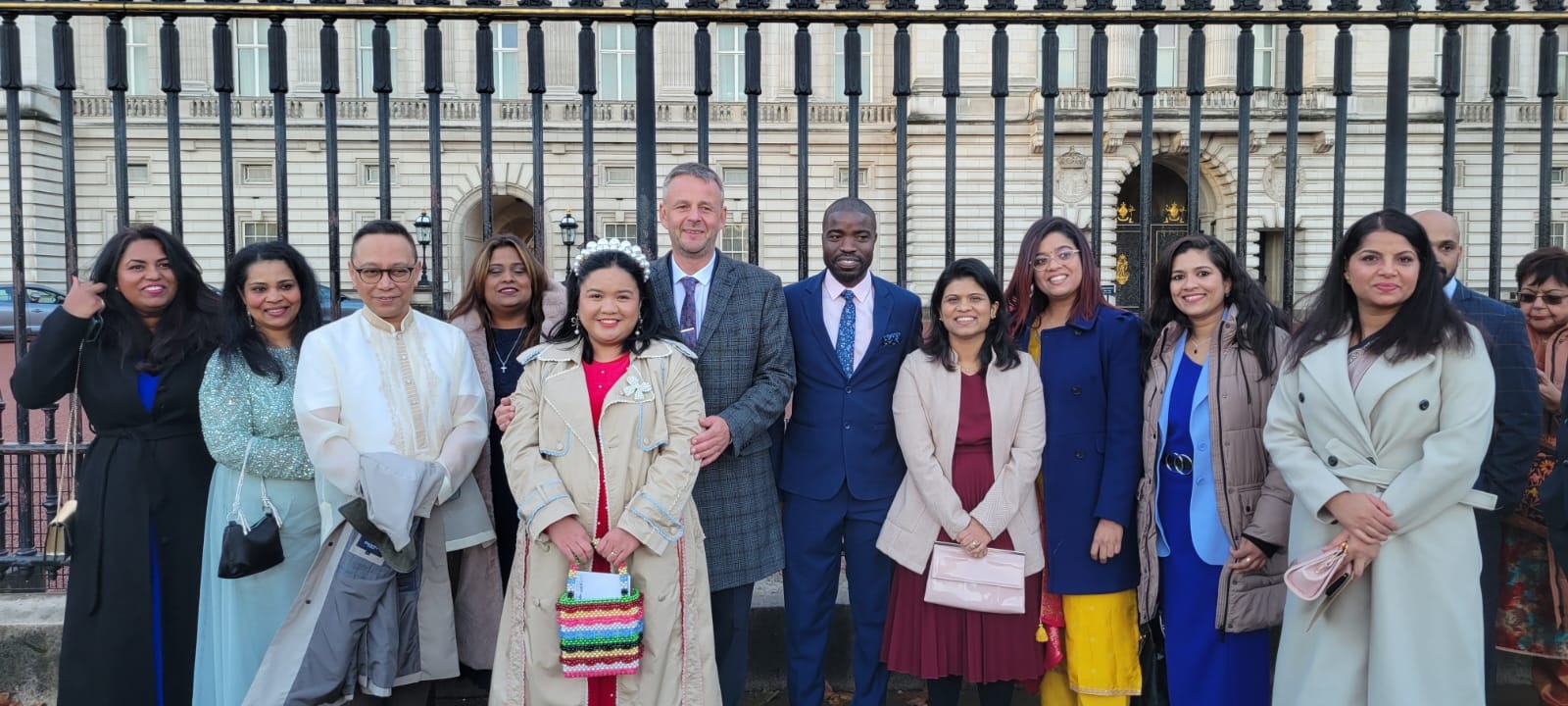 A Clinical Nurse Tutor at Lancashire Teaching Hospitals NHS Trust was commended for her contribution to International Nursing and Midwifery at a special ceremony at Buckingham Palace this week, hosted by His Majesty The King.
Meettu Koshy, Clinical Nurse Tutor in the Professional Education Development Team at the Trust, admitted it was "a dream come true" to be invited to the reception, as she joined a group of nurses from the North West at the Palace, along with Steven Colfar, Regional Director of Nursing at NHSE.
The reception was to celebrate the contribution of Nurses and Midwives, notably International Nurses and Midwives, working in the UK's Health and Social Care Sector, with Meettu being nominated to go by the Trust's HR department, who wanted her work mentoring international nurses to be recognised.
Following her work as a nurse, Meettu become a Pastoral Support Nurse for International Nurses, and said receiving the formal invite to the Palace was a career highlight.
She said: "Going to Buckingham Palace was a dream come true, I always read stories about the Kings and Queens, so to go to the Palace was really exciting. I never thought I'd get an opportunity to go there.
"It was also King Charles' birthday, so I was able to wish him 'Happy Birthday Majesty' and have a handshake – it was a great privilege and honour, a lifetime achievement and the highlight of my nursing career of course.
"He was so humble, he made sure he took time to speak to everyone, it was amazing. We went through the main gates, which were open for us, and we were invited inside for soft drinks and canapes. To see the Palace was unbelievable, like being in the movies."
Meettu couldn't wait to speak to the rest of her family back home in India: "My family were so excited about it, they are really proud of me. I was overwhelmed with all the messages and congratulations. I don't know if I will ever get such a chance again, but I can always say I met the King!"
Meettu has over a decade of experience as a nurse, before coming to England, where she had always wanted to work within the NHS.
She was honoured to represent the Trust: "Healthcare in the UK always fascinated me. I was working as a nurse for the past 13 years and I worked in Dubai before deciding to move here, joining the Trust in 2019.
"Being an international nurse myself, coming to the country in 2019 from India, adjusting to a completely different culture– I've been through many difficult situations. Those experiences enabled me to help and be an encouragement and motivation to many international nurses in my job role as a nurse tutor. That was the reason I got nominated!
"It is a great honour to be part of my team and our Trust, I have always had the opportunity to move forward and progress, and it is like a big family. I would like to express my gratitude to the members in the Trust who nominated me, I'm really grateful and privileged."
International Nurses like Meettu play a vital part in providing excellent patient care and experience, and the Trust currently employs over 600 international nurses, as well as International AHPs and midwives, and is actively looking to recruit more.
Kate Harrison, Head of Professional Education Development, said: "Meettu was a fitting representative of the Trust at Buckingham Palace – she is a clinical nurse tutor within the International nurse OSCE training team, who support our international nurses as they prepare to take their NMC OSCE exam.
"Meettu has supported her peers, and she has since moved onto delivering the BSc Nursing Adult Practice Based Pathway Programme, and is now supporting our student nurses."