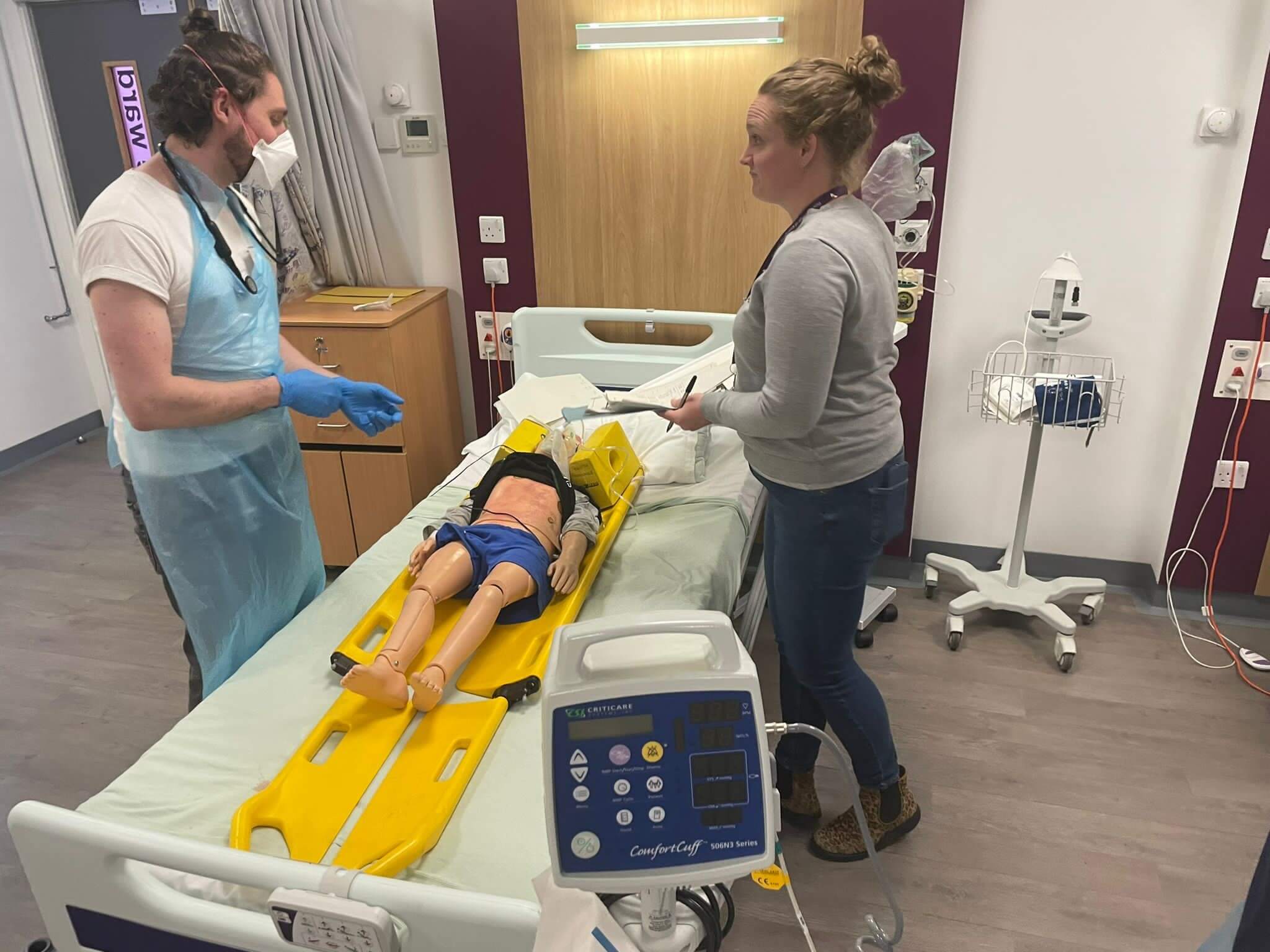 There is no substitute for experience, and Lancashire Teaching Hospital's Major Incident (MAJAX) simulation days at Chorley and South Ribble Hospital – the first such events in the North West – will be of huge benefit for organisational learning at the Trust and for Emergency Medicine trainees across the region.
Organised by Mark Brown, Senior Clinical Fellow with the Trust's Emergency Department, and Kirsten Walthall, Clinical Director for Simulation and Human Factors and a Consultant in Emergency Medicine & Simulation, alongside the Trust's Simulation and Resus Team, two one-day courses were run at a simulation hospital within the Life Centre at Chorley and South Ribble Hospital, responding to a scenario involving a gas explosion.
Final year Emergency Medicine registrars, Emergency Medicine Nurses, Surgeons, Orthopods, Anaesthetists, Operating Department Practitioners and Anaesthetic Nurses were met with patients, both actors and mannequins, after a morning of moulage - the art of applying realistic, mock injuries, including open fractures, cuts, burns and shards of glass.
As a major incident is declared, staff are placed on standby to prepare mentally and ready their environment and equipment, with patients soon starting to come through to triage, before advancing to their level of sickness area - high, medium or low. Patients are then either discharged or referred onto ICU or taken down to theatre as required.
For the simulation, the Life Centre was split into a resus area, a majors area, a minor injuries area, and a theatre and ICU command centre, with staff allocated to each.
Kirsten explained: "This is the first of these events within the North West region - lots of the time we have to do table top exercises, which help a bit with process, but don't feel as real and you don't get the clinical benefit from them.
"This is the first time [a major incident simulation] has been done on this scale in this region. This is as close as we can get to the real thing, although it's still a very limited experience of this sort of event.
"When the trainees start in their consultant post, they are the people who will be leading these events, and they need an idea of how to do it, otherwise it would be a terrifying prospect."
Mark added: "We wanted something that would give a variety of injuries and making it a gas explosion can give you traumas from falling from different areas, lots of medical injuries from the smoke and the complex injuries from a blast which we rarely see, so that is new in practice to a lot of people in the room.
"The facility here is perfect for this, it has allowed us to recreate a whole A&E area on a single footprint, which no other areas allow. It's worked well."
The success of this pilot will hopefully lead to more training dates next year, with another two dates pencilled in for June 2024.