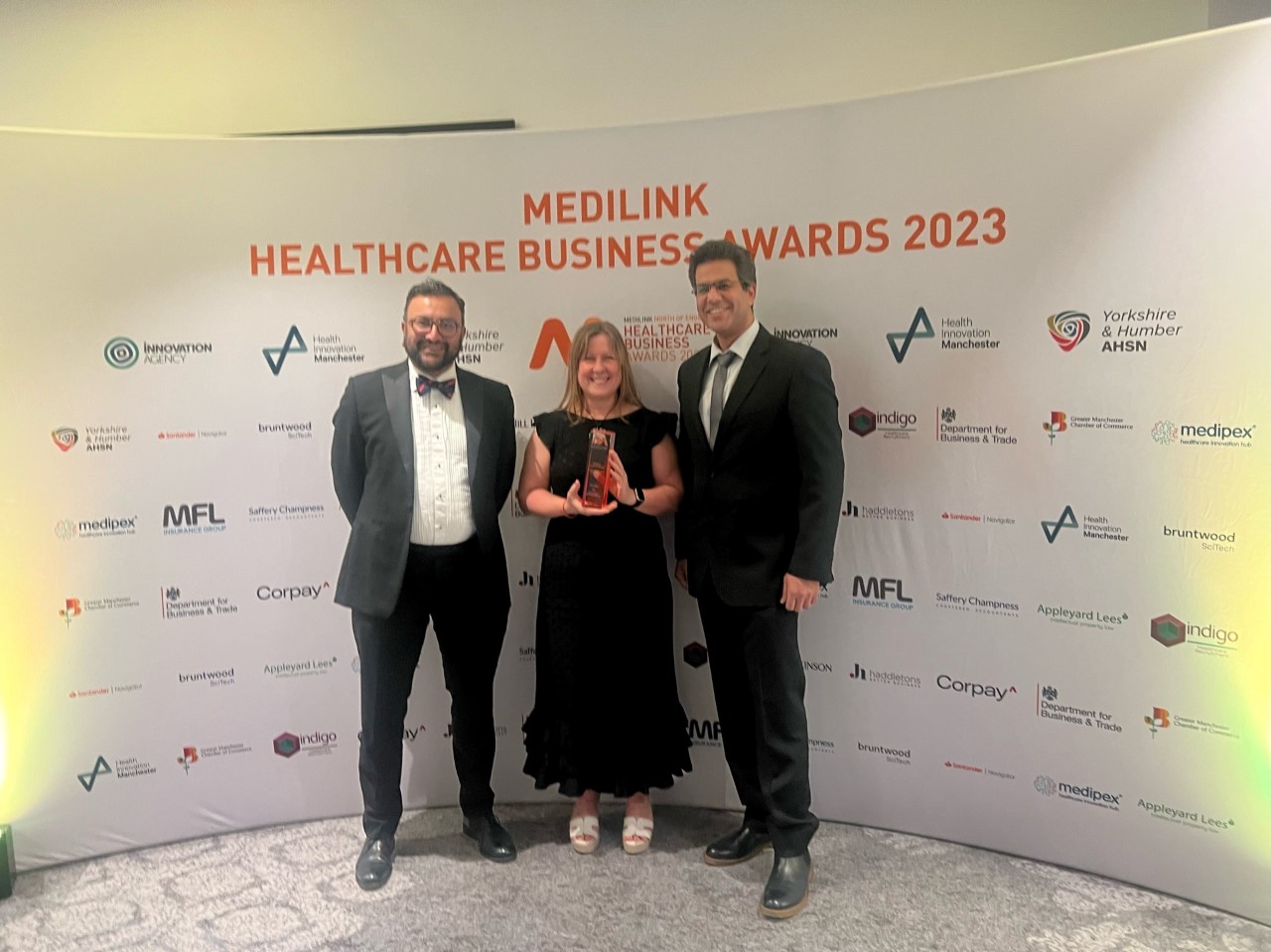 Lancashire Teaching Hospitals NHS Trusts Research and Development team received the one to watch award at the Medilink Healthcare Business Awards 2023 in Manchester last month for their work in partnership with Liopa, a technology company providing Visual Speech Recognition software.
The award, which was presented at the Lowry Hotel, recognised their work on the ground-breaking lip-reading software SRAVI – or Speech Recognition App for the Voice Impaired – which stemmed from an idea Trust Consultant, Professor Shondipon Laha, and Dr Jacqueline Twamley, Academic Research and Innovation Manager, had, to help people who have lost their voice after tracheostomies and illnesses affecting speech.
The new equipment has been trialled at the Royal Preston Hospital using the latest lipreading technology.
SRAVI is a joint-venture between the Trust and Belfast-based Liopa, working together since 2018, and their lip-reading software saw off competition from MyPathway and Klinik Healthcare Solutions to take the award, which was collected by Professor Laha, Dr Twamley and Speciality Doctor in Intensive Care Medicine Dr Shravan Nanda.
The team identified challenges in understanding patients with tracheostomies, which is a surgically
created hole (stoma) in a patients windpipe (trachea) that provides an alternative airway for breathing.
With support from the Research and Innovation team at the Trust, UCLan and the Innovation Agency, and funding from Innovate UK (DTI), developed the app with Liopa, which gives patients the ability to use a handheld device to lip read when they are unable to vocalise.
This is Liopa's first commercial development of their lip-reading software, and the Trust is also the first organisation to have trialled a financial contract, thanks to Trust Chief Information Officer Stephen Dobson, to license the app for patient use from the company in order to improve patient wellbeing.
Professor Laha said: "SRAVI is a very simple concept. It allows us to understand what our patients need. We're very excited with it's potential for use in a lot of different patient groups and it's great to see the company that we have worked with get recognition for this."
The app is now being trialled in many other hospitals in the UK and in post laryngectomy patients at Vanderbildt University Hospital in the USA.