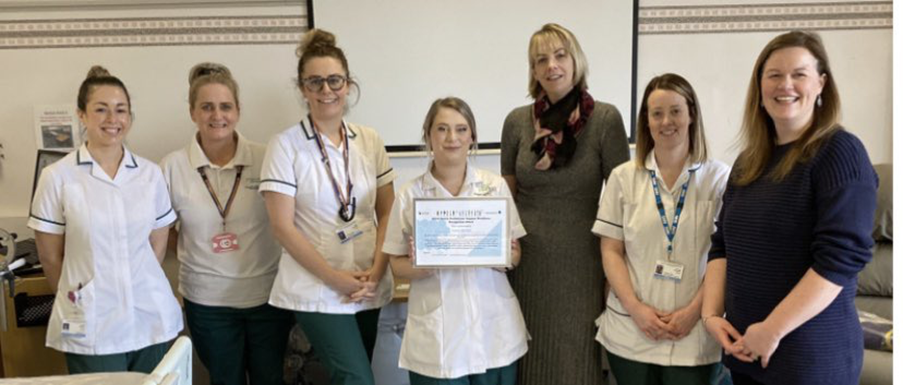 A Lancashire Teaching Hospitals colleague has earned an Allied Health Professional (AHP) Support Workforce Recognition Award for spreading the word about career opportunities within the Trust.
Student Occupational Therapist, Sophie McLean, was recognised by the Allied Health Professions Faculty for Lancashire and South Cumbria for "speaking confidently at a national job centre careers event, sharing her career journey, and presenting alongside the Health Education England (HEE) AHP workforce."
The NHS Long Term Plan emphasises the need to increase the number of people joining the AHP workforce, reducing attrition in education and training, improving retention of our existing workforce and increasing international recruitment.
Sophie was given her award after she worked on a project to develop apprenticeships within Occupational Therapy, and two years into her role the department have now seen an increase of interest in AHP careers, with two apprentices beginning work just recently.
Sophie, who has been with the Trust for seven years, said: "It's nice when you're involved in something and actually see changes happen because of it.
"I love speaking, and we try to do careers events when we go into schools – it's just a really good opportunity to inspire the younger generation and let them know there are other careers within the NHS other than being a doctor or a nurse."
Following the recruitment project, the Trust is now offering Assistant Practitioner courses, with the apprenticeships leading to becoming an Occupational Therapist, and they are also planning on starting a Physiotherapy course in the near future.
Sophie said: "There's a massive push towards growing your own workforce as well, getting people from the local community and retaining them, making sure there are opportunities for progression.
"It's keeping that going, knowing a pathway is in place is really important, not only for the people who want to develop into other roles, it's giving other people opportunities for training as well."
At the presentation, Sophie also got to speak about her experiences: "I've worked at the Trust since 2016, I started as a housekeeper, then in 2017 I started as a therapy assistant, and progressed to a band 3 assistant.
"Not that long ago I did a secondment with HEE, and I've been doing a three-year apprenticeship for about a year. There is no student debt and we get paid a full time wage to study. As long as you are flexible and willing to put in the work outside, it's a really amazing opportunity and I'm very grateful."