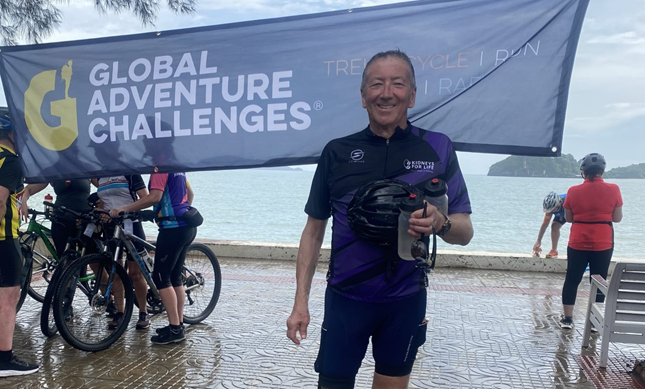 A kidney transplant patient has raised over £2,000 for Lancashire Teaching Hospital's renal centre to thank them for saving his life after he was diagnosed with Polycystic Kidney Disease five years ago.
Stephen Heavyside, from Barrow in Furness, cycled over 500km across Thailand in November 2022 to thank the team at Royal Preston Hospital after they provided him with "second to none" care during his transplant journey.
The 66-year old, who is now well on the road to recovery, was placed under care at Lancashire Teaching Hospitals in 2018 after he was told he would need dialysis and a possible kidney transplant, with his kidney only working at 6% renal function at one point.
Stephen underwent revolutionary plasma treatment for four days at the Trust, where his blood was taken out and his antibodies removed through a machine, which would prevent him from rejecting the kidney once the transplant had been complete. Following his transplant, which was done at Manchester Royal Hospital and donated by his wife Tricia, he now continues to visit the Trust every four months for check-ups.
Talking about his diagnosis and journey, Stephen said: "My wife and I were a tissue match but not a blood match, so I had the revolutionary plasma treatment which enabled some of my wife's antibodies to be put into me."
"Within a day and a half of the transplant I was up to 27% renal function, which is still low, but the difference in me was unbelievable. I was a cyclist before the transplant but I had to curtail this while I was dialysing, but I still did enough to keep me at a level of basic fitness which helped my recovery."
Following his recovery Stephen signed up for a 500km cycling event in Thailand to raise money for the fantastic team that has helped him through his journey. Following one cancellation due to the Covid-19 pandemic, the race finally went ahead in November last year and Stephen raised an amazing £2,000 for the Trust's renal centre.
He said: "I've done a few cycling events, I did a 100-mile one in London 18 months after my transplant and in the same year I rode from Vietnam to Cambodia. Some of the days of the event were tough, but the scenery was fantastic."
Talking about his experience with the Trust he added: "After being discharged from Manchester back to Preston for my check-ups, the people who have looked after me leading up to, during, and after my transplant have been amazing. They go above and beyond, they are absolutely brilliant and their care is second to none."