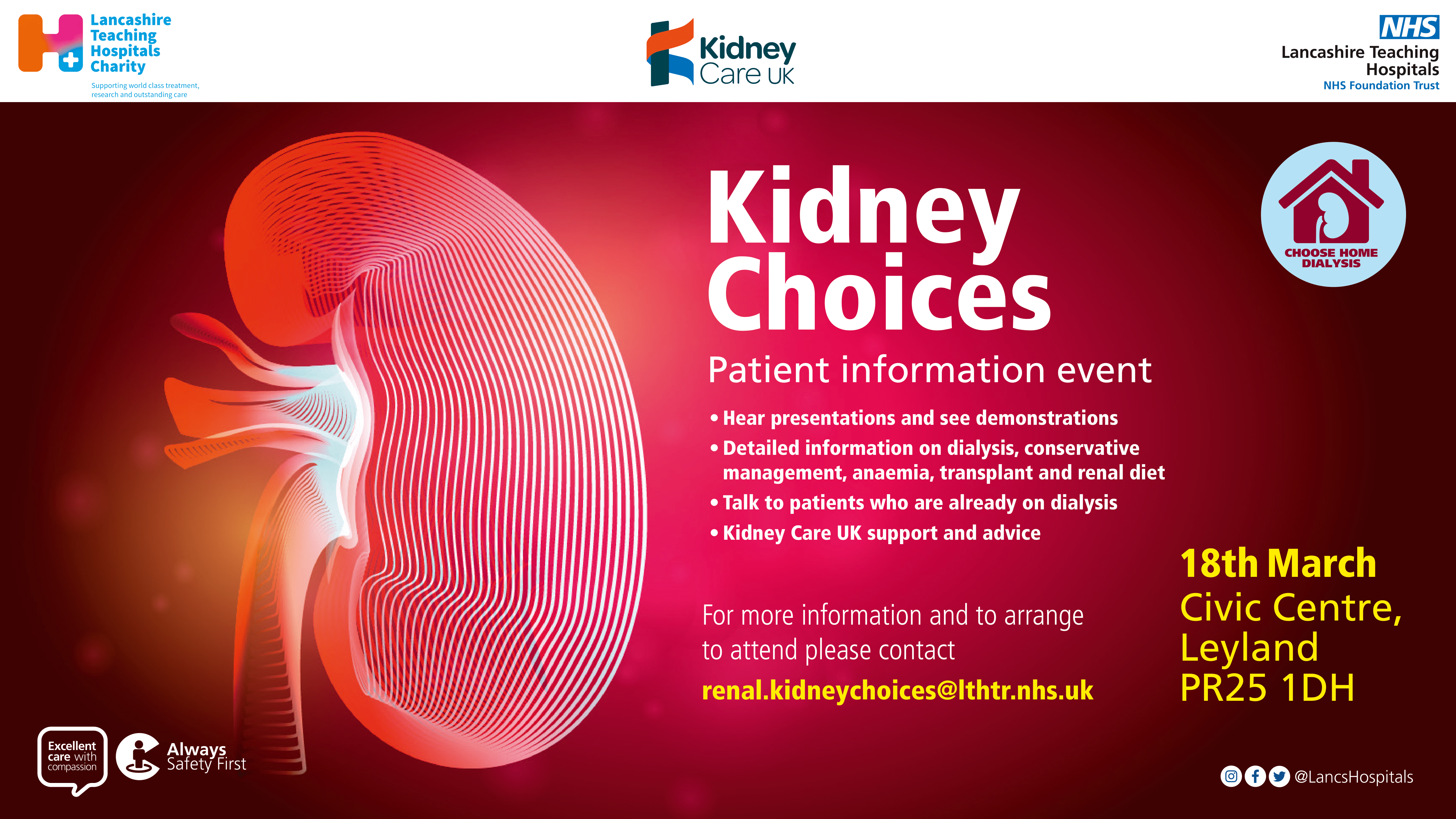 The Kidney Choices team at Lancashire Teaching Hospitals NHS Trust are delighted to announce a brand-new venue for their Kidney Choices event in March, which will provide education and support to patients with kidney function below 20%.
The new venue, located at the Civic Centre in Leyland, will allow more patients to attend and learn about preparing for dialysis, enabling them to meet patient volunteers and previous patients to give them an insight into what to expect.
The Kidney Choices team provide education and support to patients who have kidney function below 20% and are approaching the need for renal replacement therapy (RRT). They provide information and support to patients who are planning for RRT: transplant, dialysis, and conservative management.
Sarah Tipping, Kidney Choices Sister at the Trust said: "Renal replacement therapy is life changing, dialysis involves treatment at least three times a week and is needed to stay alive. A vital part of our role is our patient education event. We invite patients who are preparing for dialysis to view dialysis machines and equipment and to meet patient volunteers, who are already on dialysis. Seeing dialysis machines in real life can help patients work out what will be suitable in their own homes and prepare them for what is ahead of them."
She added: "Speaking to others who are also facing dialysis in the future can help to make people feel less isolated. We are incredibly grateful to our patient volunteers who come to support our event and provide peer support. They can answer questions about the lived experience of having dialysis and give patients the confidence that they too would be able to manage a home dialysis treatment."
During the event, patients will have an opportunity to speak to transplant specialist nurses, Anaemia specialist nurses as well as renal dieticians. A representative from Kidney Care UK will also be present on the day to provide professional advice and support to patients regarding benefits and access to grants.
Feedback from previous events has been positive, with one attendee commenting: "I attended a renal information day back in September and found it incredibly useful and insightful. It was especially worthwhile speaking with current patients and knowing what other services are available. I think this event is a must for any renal patient or relative."
The event will run on Saturday 18th March at the Civic Centre, Leyland. For detailed timings, arranging attendance and more information, please email renal.kidneychoices@lthtr.nhs.uk