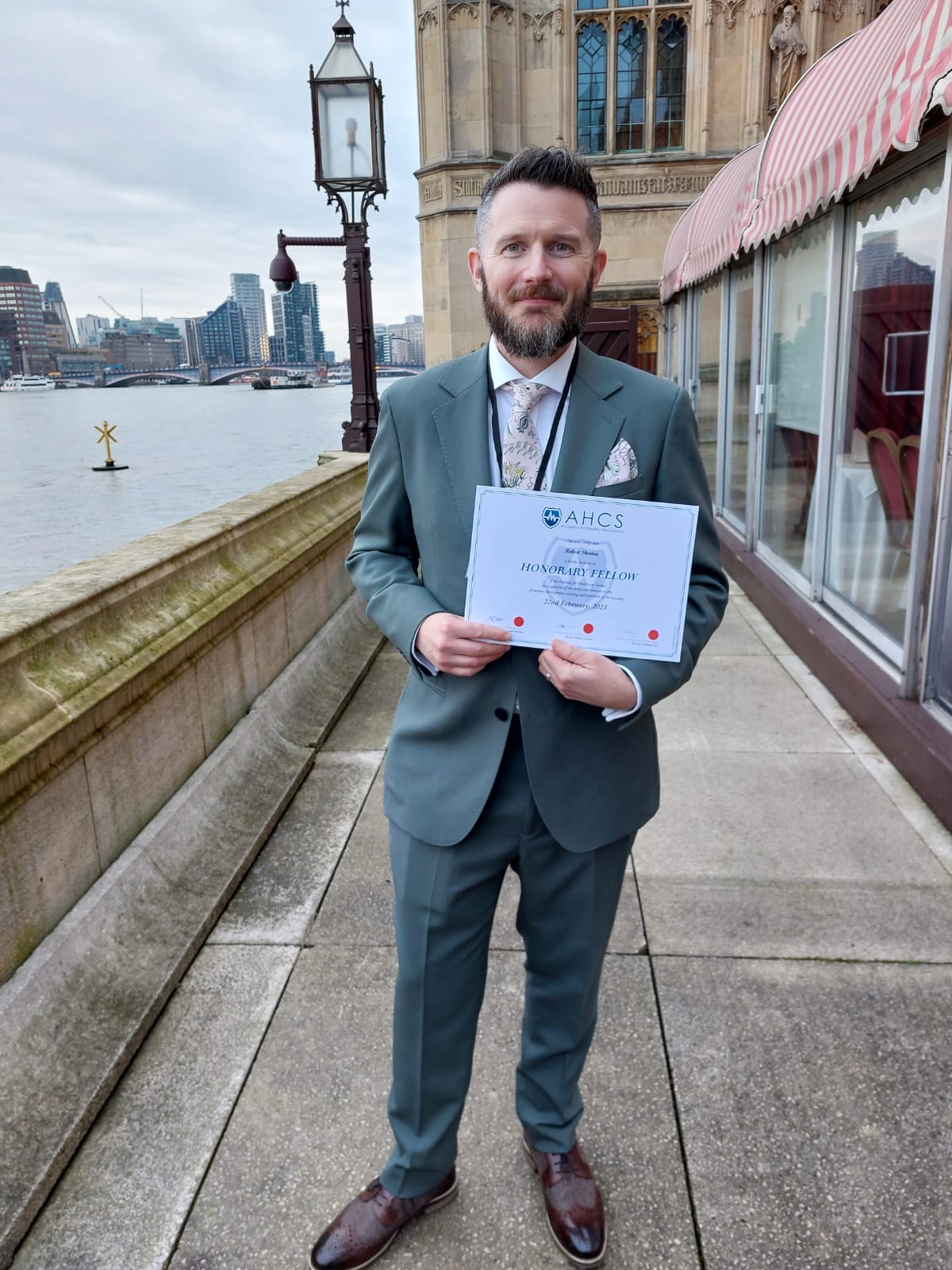 A Consultant Clinical Scientist at Lancashire Teaching Hospitals was a proud guest at the House of Lords last week, after being made an honorary fellow of the Academy for Healthcare Science (AHCS).
Rob Shorten, who started his career in healthcare science as a Biomedical Scientist, was nominated by one of his peers at Great Ormond Street, Victoria Heath, and was invited down to the second chamber of UK Parliament to celebrate at a special afternoon tea after "demonstrating a consistent commitment to the development and delivery of healthcare science."
During his career, Rob undertook Clinical Scientist training, eventually becoming one of the first two scientists to graduate from the Higher Specialist Scientist Training (HSST) Programme and becoming a Consultant Clinical Scientist in microbiology.
Since completing his training, Rob has continued to be involved with the National School of Healthcare Science (NSHCS), supporting the development of the Scientist Training Programme (STP) Microbiology Curriculum and contributing to trainee assessment.
Commenting on his accolade, Rob said: "It's nice to highlight what healthcare scientists do, and it's very much a team effort. I wasn't expecting a trip to the House of Lords, I just thought I'd get an email and a certificate. Six months later I got an invitation asking me to go down for a cup of tea, which was a nice surprise!
"I saw some people I haven't seen for quite a long time, and we had tea and cake. We were hosted by Conservative peer Lord Lindsay, and the President of the Academy, Prof. Brendan Cooper made a speech thanking the newly-appointed Fellows for their contributions to the field of healthcare science."
Rob is also the Chair of both the Microbiology Professional Committee and the Association for Clinical Biochemistry and Laboratory Medicine (ACB), and he has also contributed to microbiology at a national level as a member of the UK Government's Advisory Committee on Dangerous Pathogens.
In addition to clinical microbiology, Rob also has a strong interest in research, and is the research and innovation lead for his department. He has recently been accepted into the NIHR Scholars Programme in the North-West, and he is the biological safety officer for the GMO committee, which has recently enabled clinical trials with genetically modified therapies to be performed at the Trust.
He is also dedicated to promoting healthcare science and raising public awareness of healthcare science throughout the UK, working as part of the steering group for the #PathologyROAR campaign, developed by seven healthcare scientists to raise the awareness of pathology careers in the NHS. The campaign was successful in applying for funding from the ACB, Institute of Biomedical Science (IBMS), NSHCS and the Royal College of Pathologists (RCPath) to create 19 recruitment videos that were distributed through multiple social media channels, including via one local MP.
Following the successful release of the #PathologyROAR videos, Rob has begun working alongside the work experience team at Health Education England to make the videos available to teachers and other professionals across London.
Following the event, Rob said: "Prof. Sir Steve Powis, the National Medical Director of NHS England and Professor of Renal Medicine at University College London was there and said some really lovely words and gave a speech about the importance of healthcare sciences, particularly during COVID in terms of diagnosis, vaccinations and therapeutics."
Talking about the importance of healthcare science during the Covid-19 pandemic, Rob added: "My colleagues in the virology team were getting PCRs up and running to make sure we could test our patients and our staff, and get those people isolated if need be, making sure our staff were safe to come to work."
"The vaccines were key, there were a lot of clinical trials going on, and they rely on pathology labs to do their testing for them. The development of diagnostics, therapeutics, and vaccines would not be possible without healthcare scientists. We need to be proud of what these labs do and be more vocal about the vital role they play in patient care."