Lancashire Teaching Hospitals will be marking World Cancer Day today (4 February, 2023), a positive annual global movement to help unite people in support of the ongoing work to tackle cancer.
We live in a time of awe-inspiring advancements in cancer prevention, diagnosis and treatment, and as the leading cancer centre for Lancashire and South Cumbria, we strive to provide remarkable care and support to patients and their families.
Here, we look at some of the success stories the Trust has celebrated over the last 12 months, focussing on World Cancer Day's theme, closing the care gap.
Surface Guided Radiotherapy Treatment
Back in May last year, the Rosemere Cancer Foundation's 25th Anniversary Guiding Light Appeal was launched to bring Surface Guided Radiotherapy Treatment to the Rosemere Cancer Centre at Lancashire Teaching Hospitals NHS Foundation Trust.
At a cost of £1.3 million, the cutting-edge kit will revolutionise radiotherapy treatment for thousands of patients from across Lancashire and the South Lakes; currently, the cancer centre delivers approximately 45,000 doses of radiotherapy treatment to about 3,800 patients a year.
Thanks to the kindness of Rosemere's fundraisers, volunteers and donors (including generous grants of £7,500 from the Sir John Fisher Foundation and £2,000 from The Hospital Saturday Fund) the charity has now raised well over £800,000 towards their Appeal target. The brand-new kit has been installed at the cancer centre and our clinical colleagues have been trained on its use, recently treating their first patients.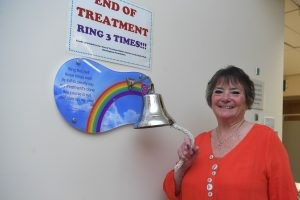 Blackpool school support worker Anita Brown (68) was the very first patient to start and complete a course of radiotherapy treatment using the new kit after she was diagnosed with breast cancer last August after a routine mammogram.
She said: "I didn't know until I got there to my appointment and the hospital told me that I was the first person going to receive the treatment. I am honoured and privileged to have been the first to use this equipment. It is an amazing thing that has been offered to me which will help a lot of people in the future. The technology they use is just amazing and the hospital staff are incredible."
The SGRT equipment will be first used on a selection of breast cancer patients, before a roll out to all radiotherapy patients in the coming months. You can read more about this innovative project on Rosemere's charity website, here.
It is another good news story for the foundation, which started out in 1997 to support services at the new cancer centre at Royal Preston Hospital. In its first year, Rosemere raised £67,000, and has since gone on to raise in the region of £20m to date in support of local cancer care. In 2021 alone £1.5m was raised, helping the charity support multiple projects and services, such as the purchase of cutting-edge equipment, supporting innovative cancer research, improving the patient environment, and enabling specialist staff training, to ensure local patients get the best possible cancer care. The Rosemere Cancer Centre itself initially opened with two treatment rooms. Now, as part of Lancashire Teaching Hospitals, it has eight treatment rooms and is the regional cancer centre (and the only radiotherapy centre) for patients from across Lancashire and the South Lakes. It is the 10th largest in England, treating 200-240 radiotherapy patients each day.
Art installation
Colleagues at Rosemere Cancer Centre were delighted to receive a new installation of artwork in the waiting area last year, titled 'the journey of cancer medicine'.
Lyndsay Wiggans, Oncology Education Hub Manager, asked the Royal Marsden NHS Foundation Trust for permission to recreate their artwork for our patients, which has helped them to understand what happens to their chemotherapy medicine before it is administered.
The new installation has been produced after consultation with our Consultants, chemotherapy and pharmacy teams and a new version is also ready to be installed at Chorley and South Ribble Hospital shortly.