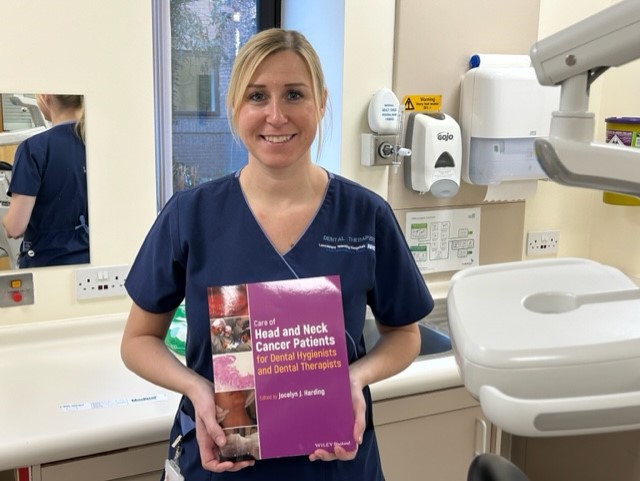 Dental Therapist Sarah Hartigan, who works in Special Care Dentistry and Restorative Dentistry with Lancashire Teaching Hospitals NHS Foundation Trust, has co-written a chapter in a new book on the Care of Head and Neck Cancer Patients for Dental Hygienists and Dental Therapists.
Editor Jocelyn J. Harding has compiled the advisory guide – released earlier this month – from 52 contributors, and Sarah explained: "It happened through Facebook – I'm part of a hygienists and therapists group on there.
"People were asked to contribute towards a leaflet for other dental hygienists and therapists regarding head and neck cancer and management of patients, and it kind of grew from there, and now there are 52 contributors and it has become a book!"
Sarah was a dental nurse at Manchester Dental Hospital for 16 years, before qualifying as a hygienist and therapist at university, and joining the Trust in February 2019.
And she added: "Not a lot of hygienists and therapists work within a Trust, they work in general practices. So this book is brilliant for them, it answers a lot of questions, if they are seeing a patient and need advice.
"I teamed up with a speech and language therapist, Eve Ferguson, who has now left the Trust, to do that aspect together. The chapter discusses the side effects of treatment for head and neck cancer such as difficulty swallowing and trismus (limited opening).
"I never thought I'd see my name in print! It wasn't something I'd thought about until I was asked, and I thought I could help and contribute."
All proceeds from the book go to the Head and Neck Cancer Foundation.
Focusing on the before, during, and after treatments, the book covers common head and neck cancer treatments, such as surgery, radiotherapy, chemotherapy and innovative new therapies. It also discusses treatment complications such as halitosis, osteoradionecrosis, and radiation dermatitis. Other topics include: An introduction to substance misuse and oral health and the early detection of mouth cancer; The role of a dietitian in the care of head and neck cancer patients; Proton beam therapy and transoral robotic surgery; Physiotherapy for someone diagnosed with a head/neck cancer; and Lifestyle factors in oral cancer and pain management in head and neck cancer patients.