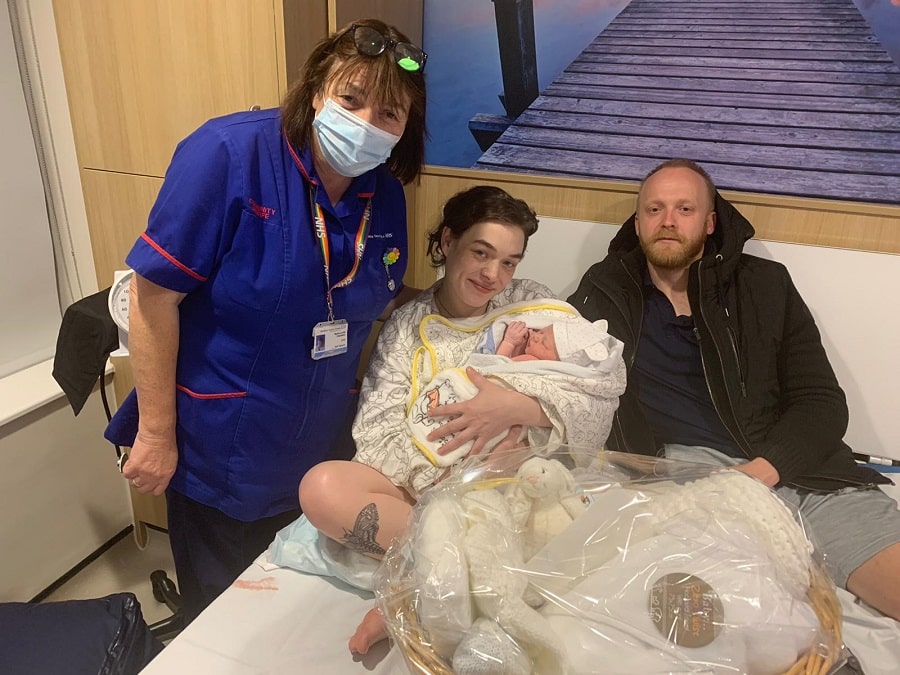 Midwife Marie Chambers who has worked for Lancashire Teaching Hospitals Maternity Services since 2000 has assisted 1000 women to give birth.
The 1000th Baby was born at Chorley Birth Centre where Marie is based with the Chorley Continuity Team.
Chorley Birth Centre is one of four birthing options available at Lancashire Teaching Hospitals Trust
The Birth Centre has its own dedicated continuity of carer team which provides continuity of care by a named midwife to women and families throughout their ante natal, birth and post-natal journey.
Now, the important stuff that every mother wants to know
Baby Elleanne was born at 21.31 on May 26th 2021
Mother and baby are doing well.
The baby weighed in at 7lb 4oz
Parents Chloe and Liam are overjoyed to welcome a baby girl to the world.
Chloe said:
"Marie reassured me every step of the way and built my confidence up to keep going. I am honoured that my baby Elleanne was Marie's 1000th baby and couldn't be more grateful and heart warmed at Marie's gesture of the hamper basket we received for her."
Trudy Delves Birth Centre Manager said:
"Marie has been a dedicated midwife for over two decades and has always strived to provide continuity of care to all the women in her caseload, ensuring they have a positive birth experience. It is an amazing achievement that Marie has welcomed 1000 babies into the world.
"Chorley Birth Centre is based within the Chorley and South Ribble site and officially reopened on December 14th 2020 after a complete rebuild on the site of the former Busy Bees nursery.
"We offer an outstanding birth environment for women with active birthing equipment including birthing pools in each room."
When asked about her milestone of 1000 births Midwife Marie said:
"Each birth is special to me… helping to bring a new life into the world. The 1000this a bit of a landmark though I must admit.
"We are a team who care passionately about our job. Assisting new parents through their journey is an absolute privilege for all of us in Maternity Services."
Everyone at Lancashire Teaching Hospitals Trust would like to also send their warmest best wishes to new parents Chloe and Liam and of course to Elleanne.