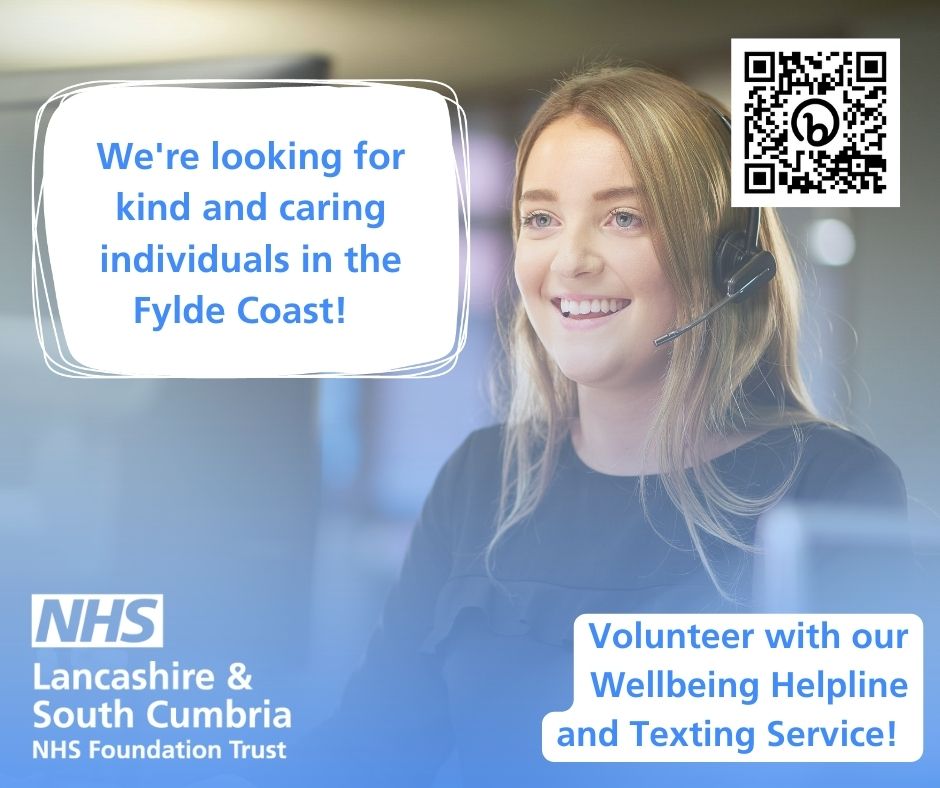 Lancashire and South Cumbria NHS Foundation Trust (LSCFT) is calling on people from across the Preston and the Fylde postcode areas to offer their support to its Wellbeing Helpline and Texting Service, which urgently needs volunteers to ensure it can continue making a real difference people across Lancashire and South Cumbria.
The Trust's Wellbeing Helpline and Texting Service is manned by a group of fully-trained volunteers who offer a listening, non-judgemental ear and confidential emotional support to callers, who are often in distress.
The helpline was established 26 years ago and aims to support those who are experiencing:
Mental or emotional distress
Loneliness and isolation
Lack of emotional support
Worries and concerns about the current cost of living crisis
Difficulties with their wellbeing or mental health.
Being in a caring role
Have no one else to talk too
And any other situation that impacts on how you people are feeling
Rachel Moseley, Volunteer Admin Co-ordinator & Admin Team Leader at LSCFT, said that demand for the service is increasing but without the crucial work of volunteers, the Wellbeing Helpline and Texting Service could not run.
''With more people than ever accessing our service, we urgently need people to come forward and join our amazing team of volunteers." she said.
"Last year the Wellbeing Helpline and Texting Service received calls from 26473 people from across the region. We can receive calls from people in great distress and, on occasion, people who are at risk of harm or suicide. Our volunteers play a vital role in helping them to get the support they need.
"We're looking for people from all walks of lives, whether you are a student, business, or recently retired, as long as you are over 18 and can commit to at least one four-hour shift every two weeks then we would love to hear from you.
"Volunteering is a great way to make a difference in your local community, learn new skills, meet new people, and most importantly make a difference to the lives of others. You don't need to have any previous experience as full training and support will be provided."
The service is currently open Monday to Friday, 7pm to 11pm, and Saturday and Sunday, 12pm to midnight and shift supervisors will be on hand to offer help and guidance.
Those interested in volunteering can contact 01253 447900 to request an application pack or alternatively visit the Wellbeing Helpline and Texting Service page (you can also read more information about the Wellbeing Helpline and Texting Service on the same link).