On Wednesday 26 October 2022, Lancashire Teaching Hospitals NHS Foundation Trust opened their new virtual reality suite, located in Education Centre Two at Royal Preston Hospital.
It comes at a cost of just under £300,000, from a grant provided by Health Education England.
The interactive and immersive rooms allow learners to train in different situations without the need for headsets, safely re-enacting highly pressurised scenarios, with the knowledge that lives are not at stake.
This innovative simulation technology includes projecting images, sights and sounds to recreate the experience of working in the emergency department, resuscitation bay, clinics, wards and operating theatres.
Kirsten Walthall, Consultant in Emergency Medicine and Clinical Director for Simulation and Human Factors, believes that this new virtual reality suite at will be pivotal in continuing to develop staff, in a more realistic environment.
She explained that the suite "should make a massive difference to the standard of education that we can deliver". Kirsten who cut the ribbon at the grand opening, continued to say:
"We were very fortunate this is the first simulation centre that was built within the North-West region, but that was over 20 years ago that we started.
"We've got by essentially on a shoestring since then, delivering the best education we can, but with somewhat limited resources that, over the years, have become a little outdated.
"We felt it was time to make sure we really upped our game and continued to deliver that high level of education."
Virtual reality helps develop hands-on skills in risk-free conditions, simulating scenarios that are difficult, dangerous, or expensive to recreate in real life, and realism makes a big difference:
"We talk about realism a lot within simulation-based medical education, and the importance of realism on learning, and people are more likely to retain information and make it relevant to your workplace if it feels as if it is in that setting to start with.
"We've had a lot of the high-fidelity, hi-tech mannequins to help us do that in the past, but the rooms have always looked like education rooms, and that has held us back a little bit.
"Now we have the ability to change the rooms to look like community, if we are doing a community setting, we can do pre-hospital assessing, we can do things with our GP trainees, OT and physio training by creating an environment much more familiar to them to what looks like a clinic room, and we can do things that would involve outpatient clinics, or theatre settings, or rhesus departments in our emergency department – we can change the environment so it feels like the place in which you work.
"And the technology we have allows us to fill those areas within Lancashire Teaching Hospitals, so it's not a bit like that environment, it is that environment they are working in.
"That should hopefully enable learners to take as much as possible from the sessions we do and take that into their own workplace when they go back."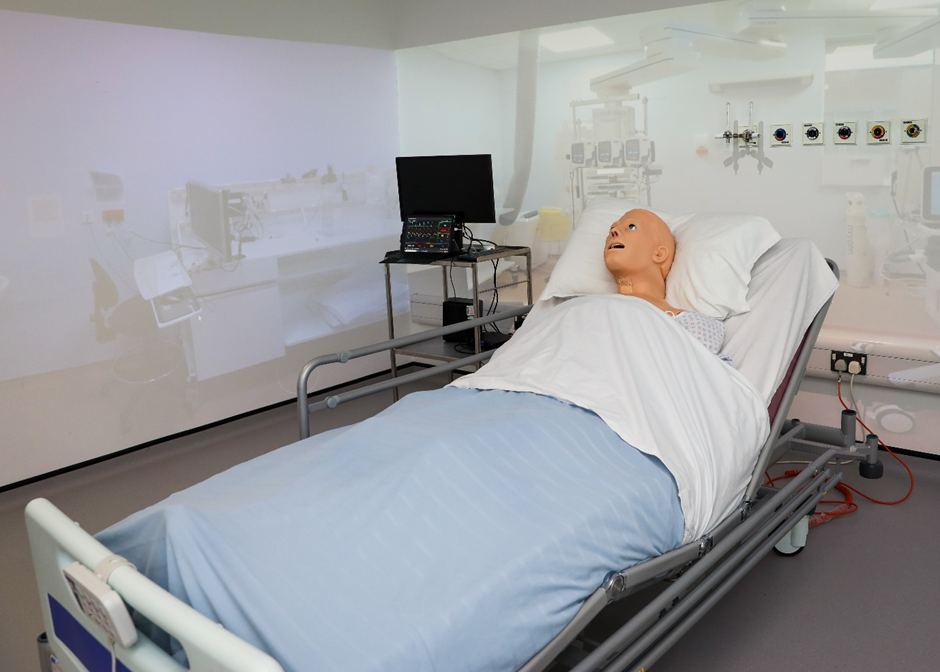 A number of rooms and situations have been filmed, with more to come, and Kirsten added: "It's still a work in process, the company we have used for the immersive suite have a bank of videos they have already have, so it means we don't have to wait until the filming is done, we can just get started, and some of those that are community-based, they are already pre-built so it doesn't matter whose living room it is, as long as it's not your own!
"The one we have on display today is of our intensive care unit, and that is something we've been able to film and get up quite quickly, and we're slowly working through a list of places within the hospital that we want to have those rooms for, so that will continue to improve and develop the training over the next six to 12 months.
"This technology has been used in other centres within the country and the region, and it was something we felt it was about time we had here.
And it should future-proof that education: "There's no research which specifically says how much this will reduce the time it takes to train, but because the pressures within the NHS are so high at the moment, it is a big concern that learning opportunities in the workplace are being lost, so it provides protected learning time, in an environment just used for education, so it is safeguarding that education for the future, to make sure we don't stop developing staff, just because the physical pressures of the environment we work in are so high."
To learn more about the educational and training facilities available at Lancashire Teaching Hospitals, please visit the Health Academy website.