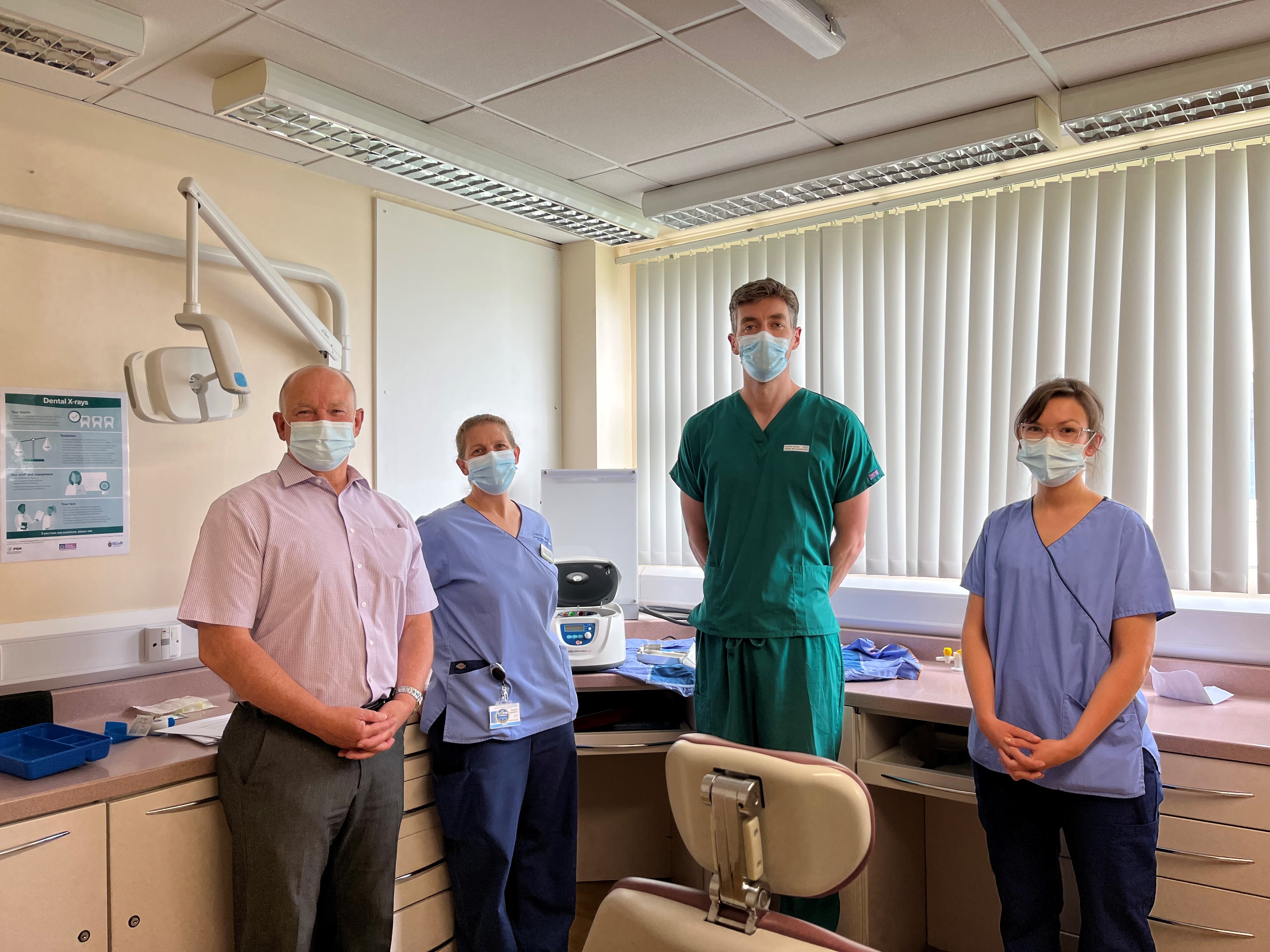 Dentistry equipment billed as "game changing" for how it can be used to speed patient healing and reduce the risk of treatment complications has been bought for the dental teams at the Royal Preston and Chorley and South Ribble Hospitals by Rosemere Cancer Foundation.
The charity had help from staff at Preston's Springfields Fuels Limited, owned by Westinghouse.
Its Springfields Employees' Medical Research & Charity Trust Fund gave Rosemere Cancer Foundation a £2,695 award to put towards the total £5,250 cost of two PRF Duo Quattro Full Systems – one for each hospital.
The dentistry teams look after patients not just from the Preston area but also, those from across Lancashire and South Cumbria undergoing treatment for head and neck cancers, which includes cancers of the mouth, at Rosemere Cancer Centre.
Their new kit is a centrifuge system that can be kept chair-side. A small blood sample is taken from patients needing surgical procedures such as tooth extractions, bone grafts or dental implants.
The sample is put into a PRF system and spun so that it is separated into red blood cells, white blood cells and platelets and growth factors – PRF (Platelet Rich Fibrin).
It is the PRF, collected as a yellow gel like substance, which is then used as either a membrane or plug post-surgery that helps tissues (tissues such as the gums and bone) heal better and more quickly.
Consultant in oral rehabilitation Mr Kevin Mellan explained: "PRF in dentistry has been shown to reduce patients' post-operative pain and decrease their risk of complications from subsequent infections.
"It's an aid to natural healing with no risk of rejection or foreign body response because it's a treatment derived from the patient's own blood sample. PRF is regarded as game changing and is increasingly being used in dentistry worldwide for the benefits it brings to patients and because it can be produced easily and at a low cost."
Trusts and grants fundraiser for Rosemere Cancer Foundation Rebecca Arestidou said: "Over the last eight years, the Springfields Employees' Medical Research & Charity Trust Fund has supported a number of our projects. We are extremely grateful for its latest help in purchasing the two PRF systems, which are set to make an immediate positive impact on patients."
Sandra Scambler, chair of the Springfields Employees' Medical Research & Charity Trust Fund, said: "The Springfields Charity Trust Fund is delighted to support Royal Preston and Chorley and South Ribble Hospitals and Rosemere Cancer Foundation. So many people are affected by cancer and we greatly appreciate the help and care that they provide for patients and their families in the local community."
Rosemere Cancer Foundation works to bring world class cancer treatments and services to cancer patients from throughout Lancashire and South Cumbria being treated at Rosemere Cancer Centre, which is the region's specialist cancer treatment and radiotherapy centre at the Royal Preston Hospital, and also at another eight local hospital cancer units across the two counties, including that at Chorley and South Ribble Hospital.
The charity funds cutting-edge equipment, clinical research, staff training and innovative services and initiatives that the NHS cannot afford in order to make patients' cancer journey more effective, comfortable and stress-free. For further information on its work, including how to make a donation, visit www.rosemere.org.uk