Lancashire Teaching Hospitals NHS Foundation Trust has been shortlisted at this year's Health Estates and Facilities Management Association (HEFMA) awards.
The awards aim to recognise the dedicated work and achievements of staff working within NHS Estates and Facilities Management departments over the past year, with nominations from across six different categories.
The acute hospital Trust, which operates Royal Preston Hospital in Preston, and Chorley and South Ribble Hospital in Chorley, has been shortlisted in the category for Project of the Year; a nod to the exemplary efforts of the Trust's Estates and Facilities division to assemble the Nightingale Surge Hub Preston, with local NHS teams.
The Nightingale Surge Hub Preston was constructed in preparedness of a potential wave of COVID-19 Omicron admissions earlier this year.
Through joint-collaboration with NHS England and NHS Improvement, the Estates and Facilities division at Lancashire Teaching Hospitals were able to bring the Nightingale Surge Hub Preston online in just three weeks – a turnaround which has been recognised nationally as remarkable.
Based at Royal Preston Hospital, the Nightingale Surge Hub Preston is a standalone demountable on a former car park, opposite the major trauma centre's Emergency Department. The car park was identified as the most suitable location due to its size and ease of access to the main hospital.
In addition to this, other locations across the Trust were identified to accommodate patients, should there have been a surge in COVID-19 infections that outstripped capacity. This included temporarily renovating the staff canteen at Royal Preston Hospital into a 16-bed ward, so that it could be mobilised into a clinical space with just 48 hours' notice.
All construction and maintenance works were conducted while ensuring the day-to-day running of the hospital continued with little disruption, which is testament to the mutual expertise and skills of those in the Estates and Facilities division at the Trust and local NHS teams, who were committed to ensuring patients continued to receive the best possible care.
The Nightingale Surge Hub Preston has provided NHS resilience to help de-escalate system-wide pressures and is now being used to accommodate low acuity non-COVID patients who do not require acute hospital care. Patients admitted are usually fit and well to be discharged but are waiting for support packages to enable them to go back home or to an appropriate care setting.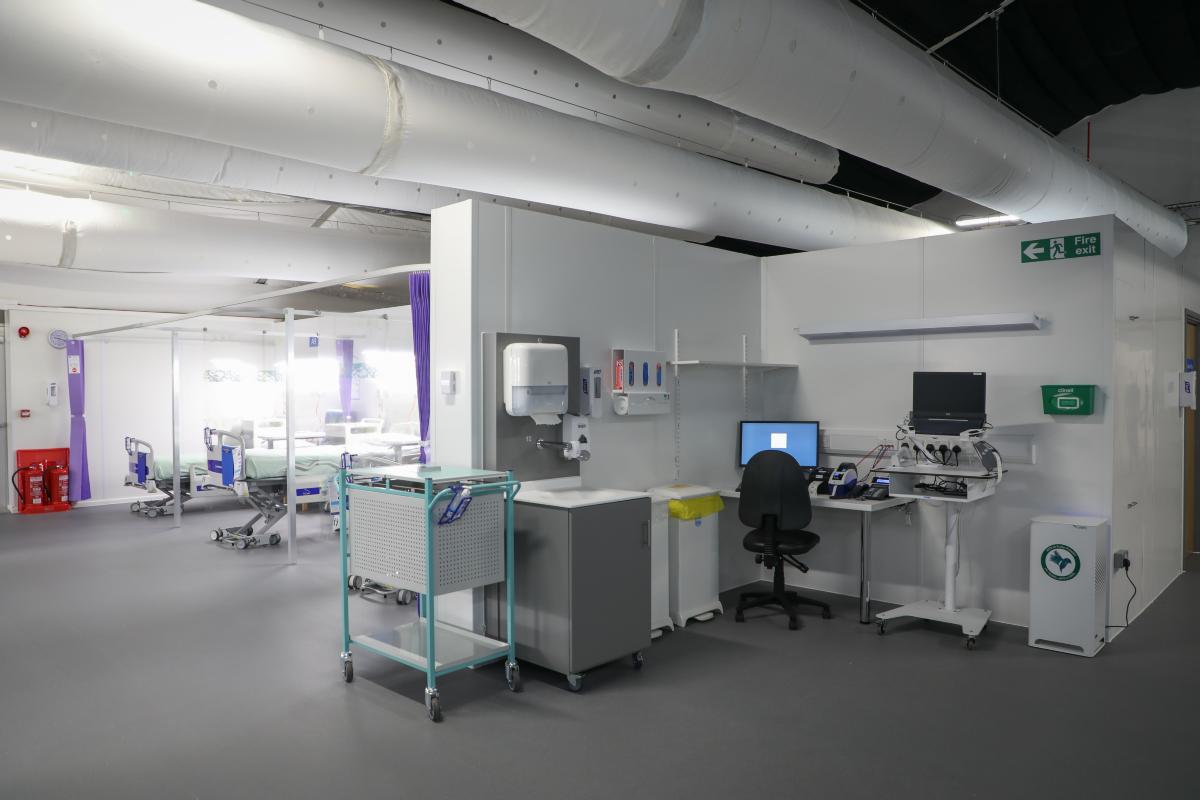 David Hounslea, Director of Estates and Facilities at Lancashire Teaching Hospitals said: "It is fantastic for our staff working across Estates and Facilities to be nominated for Project of the Year at this year's HEMFA awards.
"This was a project which required joint-collaboration, dedication and sacrifice from many NHS teams, and I am very proud of what our division achieved in a short period of time to ensure we were prepared for all scenarios."
The winners will be revealed at an awards dinner at this year's HEFMA Leadership Forum on Thursday 12th May 2022.