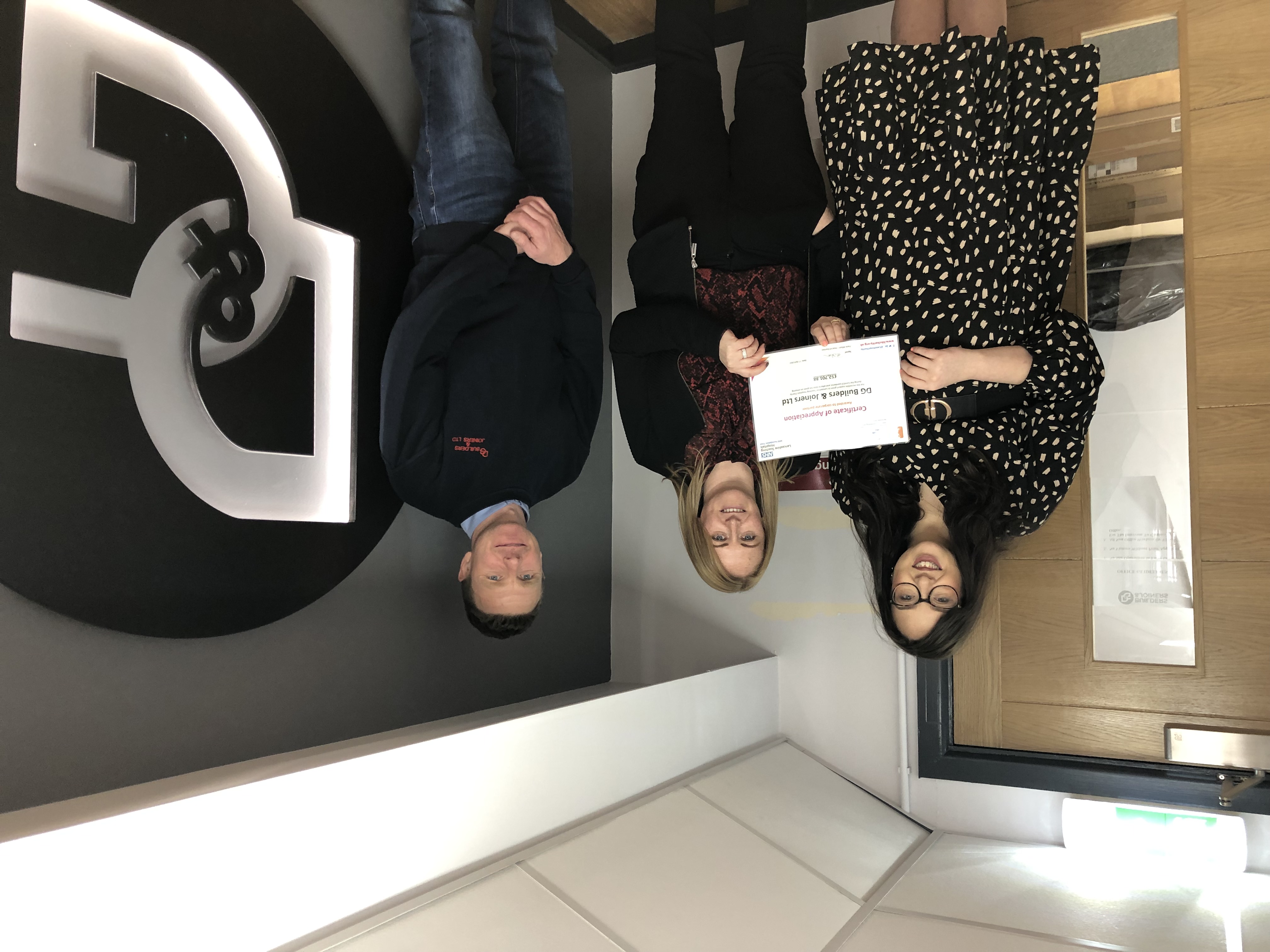 Lancashire Teaching Hospitals Charity is delighted to give local Chorley based company their Corporate Partner of the Year award thanks to innumerable support since the beginning of the COVID-19 pandemic.
To date, local company, DG Builders & Joiners ltd. has donated £52,701.88 to the Hospital charity, helping to provide additional care and support for patients and staff that would not be covered by core funding.
Established in 2019, Lancashire Teaching Hospitals Charity's aim is to provide excellence in treatment, research and care across Royal Preston and Chorley and South Ribble Hospital sites, as well as community and satellite units, such as the Broadoaks Child Development Centre at Leyland and Specialist Mobility and Rehabilitation Centre at Preston Business Centre.
Since the start of the COVID-19 pandemic, DG Builders & Joiners Ltd has helped to uplift hospital environments for patients and staff and has been an avid supporter of the Charity's Children's Appeal, taking part in challenges and donating toys and crafts to the Children's services.
One of the most significant projects the construction company helped to create alongside UPS Creations Ltd was an outdoor garden area for staff at Royal Preston Hospital's Critical Care Unit; helping staff to relax and recuperate 'mask free' in fresh air, amid long and challenging shifts in one of the busiest and most challenging departments, particularly during the peaks of the pandemic.
The contribution totalled nearly £30,000 gift in kind and was just one of many projects DG Builders & Joiners Ltd has delivered to improve services for patients and staff across Lancashire Teaching Hospitals.
More recently the company has been helping the charity put the final touches to memorial gardens at the Trust. The gardens will allow colleagues and families to remember those who have died before and during the pandemic and raise awareness of organ and tissue donation.
Paula Wilson, Head of Charities at Lancashire Teaching Hospitals Charity, said: "I am extremely grateful for all the support that DG Builders & Joiners have given us over the last 2 years. Since joining the Trust in April 2019, I have been blown away by their incredible generosity and kindness.
"Emma and the team have really gone above and beyond to help us, not only in the pro bono work, but also by taking part in some of our most challenging events. They have also encouraged others to get involved too. We are thrilled to be able to recognise this amazing partnership, and to shine a spotlight on the great company that DG builders & Joiners are."
Emma Turner, Managing Director at DG Builders & Joiners Ltd, said: "We love working with Lancashire Teaching Hospitals Trust, the staff make it so special, they are dedicated and really make a difference. It's therefore a pleasure to support Lancashire Teaching Hospitals Charity as a way of giving a little back."