Pharmacy
Welcome to the Pharmacy Department
The Pharmacy Department is responsible for the management and dispensing of medicines for both hospitals.
The Pharmacy Department manages the purchasing, storage, dispensing, distribution, transport, prescribing, administration and disposal of medicines. The Pharmacy Department works with staff across the hospitals to make sure prescribing is safe and effective, and to advise patients about how best to manage their medicines.
The Pharmacy Department uses modern and innovative technology including automated storage and systems to ensure the safe and efficient dispensing of medicines.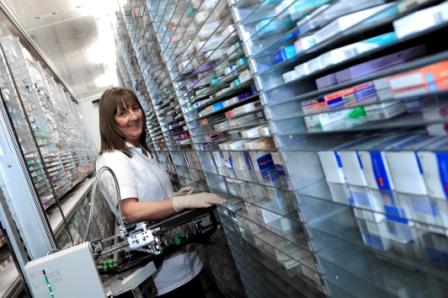 The Pharmacy Department includes :
Clinical pharmacy team –provides specialist pharmaceutical support on the wards, theatres, clinics and dispensaries to ensure prescribing is safe and effective, and to ensure patients are supported to take their medicines appropriately
Dispensary team – responsible for dispensing medicines for inpatients, discharged patients and outpatients for the Lancashire Teaching Hospitals NHS Foundation Trust, within the local community, and for private hospitals
Clinical trials team – ensures Investigational Medicinal Products are appropriate for use, and are bought, managed, stored and used safely and correctly, to safeguard patients and ensure compliance with regulations and legislation
Education and training team- oversees the training and development of pharmacy staff, teaches and assesses the prescribing competence of other staff, medical students and trainees
Stores and procurement team - provides a drug purchasing, contract management and distribution service to our pharmacies and departments, and other NHS organisations. pharmacies, departments and Wards of this Trust and other NHS Service providers.
Medicines information team – provides medicines advice and support to staff and patients, and monitors the trust Formulary.
Preston Pharmaceuticals Unit – provides a range of dispensed and manufactured medicinal products through the aseptic, sterile, non-sterile and radio-pharmacy units. You can visit the unit's page here: https://www.lancsteachinghospitals.nhs.uk/preston-pharmaceuticals
Pharmacy Undergraduate Work Experience – Application for Hospital Pharmacy Experience [pdf] 55KB