A Lancashire Teaching Hospitals Psychologist swapped his day job to risk his life searching for survivors in Tϋrkiye last week after a devastating earthquake killed thousands.
By day Jay McNeil is a Principal Psychologist who works in Oncology, Burns, Plastics and Dermatology but in his spare time, he is also a member of the Serve On charity's International Response Team, a highly-trained team of Urban Search and Rescue (USAR) experts who respond to disasters anywhere in the world.
When a massive earthquake devasted south-eastern Tϋrkiye and northern Syria two weeks ago, with tens of thousands of people killed, Jay was one of 12 volunteers who dropped everything to risk life and limb in harrowing conditions, as the Salisbury-based team were deployed to the city of Adiyaman, one of the worst-affected areas of Tϋrkiye.
Telling us how he was waiting for the call, he explained: "We have to be invited and have permission from a country before we can even leave this country to fly there, so it was a few days before we got permission to go. We got in on the Thursday and got back the early hours of the following Thursday."
After flying into the country and being bussed to Adiyaman, Jay was met with the full horror of the situation: "The very first job I had there was a site with a family who had lost four relatives. The whole building had collapsed onto the bottom two floors and the family had got a digger to excavate, so it was terrifyingly precarious.
"We made a tiny hole, and I'm the smallest member of the team so it's often my job to get inside a structure first, but it wasn't stable and was leaning. A slight rumble could have brought the rest of it down. I was thinking 'this could kill me', and that's not a feeling you ever have in training. But I did the search that was needed for the family and got out of there."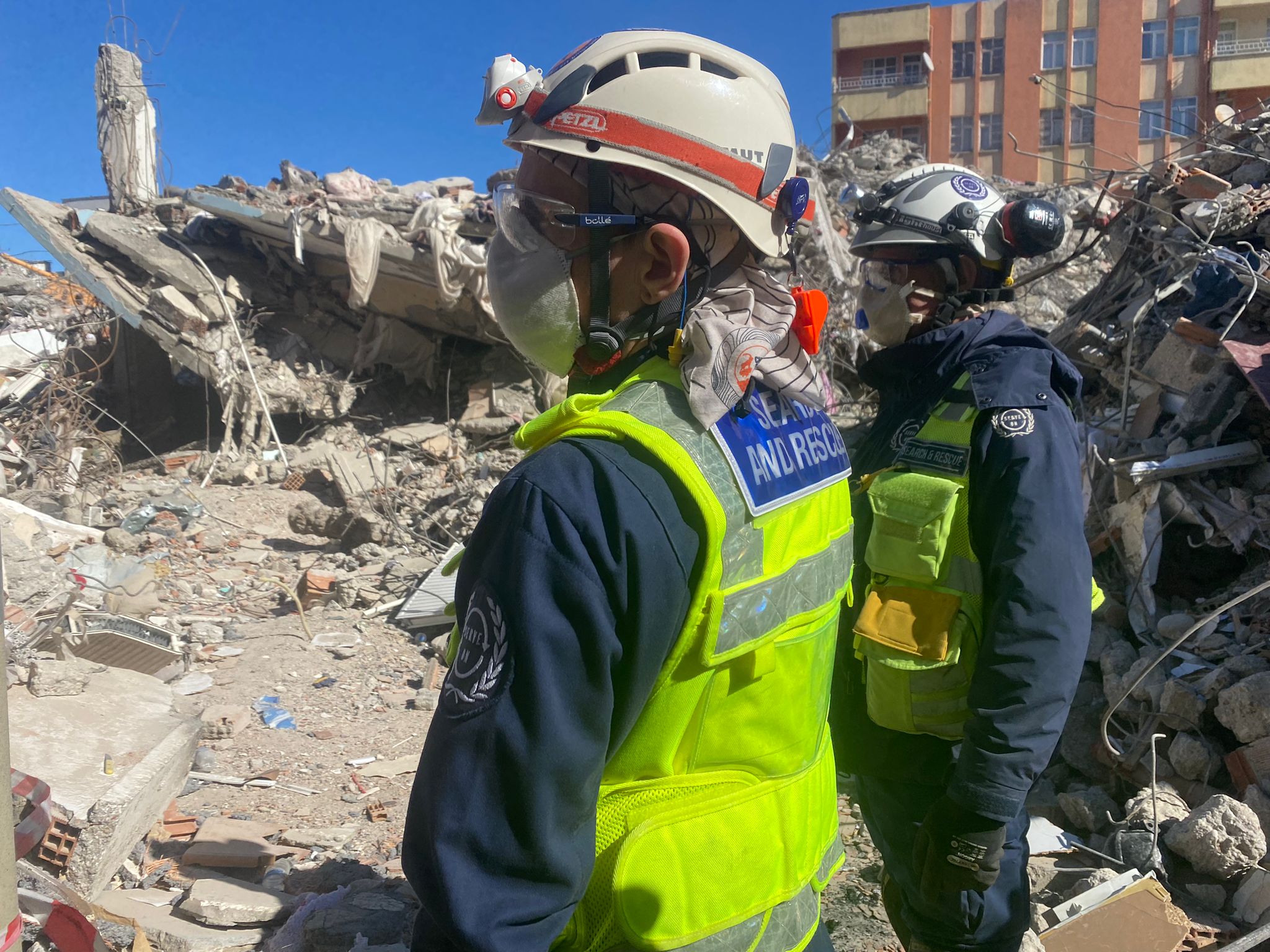 The team were also deployed by the United Nations to a site where there was a confirmed live casualty, ten days after the initial earthquake. Jay said: "We were there for about ten hours, constantly working. We found out once we got back to the UK that they'd rescued a woman alive, and I'm so pleased we were part of that.
"At another site, three eight-storey buildings had completely disintegrated with over 200 people missing, and Jay added: "We were just looking at this enormous pile of debris, but we were working alongside teams from China, the Bangladeshi Army, the Tunisian Gendarmerie, a Czech team, an American team and the Sudanese fire fighting team – it was this huge international effort and everyone knows what they are doing, everyone working together."
So how does a psychologist end up training in International Search and Rescue?: "I've been part of the team since 2010. I was living down in Essex and got into search and rescue, looking for missing people and I saw about this type of work and wondered if I could be that kind of person?
"The earthquake in Haiti had just happened as well and I remember seeing pictures of people tunnelling there trying to rescue people and asked myself if I could do that sort of thing, put myself on the line like that for others, because it's terrifying.
"I got in touch with the team and went through a gruelling selection process and got in. Two years of training later I passed the final five-day test and I've been an active member since."
The USAR team trains one weekend a month at their headquarters near Salisbury, to help with search and rescue missions with collapsed structures or natural disasters.
It's a far cry from his day job although elements of psychology are certainly helpful in such scenarios. He said: "It's very different to being a psychologist although I do use psychological skills in a disaster area as you deal with lots of distressed people.
"I've been called upon a few times but this is the first time I've been deployed internationally, because, luckily, these things are few and far between. You train for years and years and might never leave the country. But it's all about being ready just in case, although you can't prepare for things like the smells in a disaster area, and telling families their loved ones have died, that's hard.
"We're used to tunnelling, using fire stations where they have a search and rescue simulation, but you're not training in a zone with aftershocks where a building could come down on top of you."
Following their rescue mission, the charity had to leave most of their equipment in Tϋrkiye, which was needed to help continue searching for survivors. If anyone would like to help with the good work Serve On do, you can donate here.