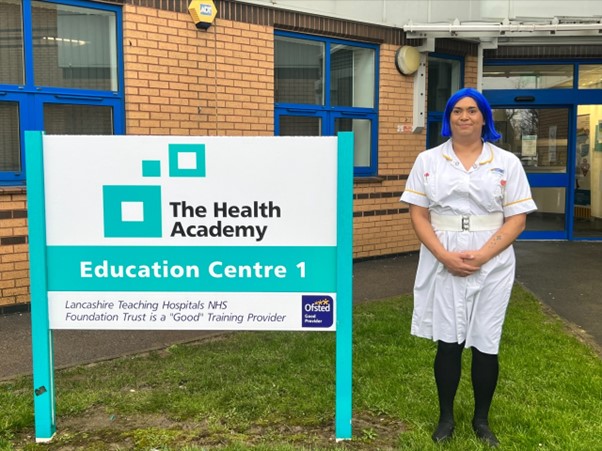 This February the Trust will be marking LGBT+ History Month to show support of the month-long observance of lesbian, gay, bisexual and transgender history and the history of gay rights and related civil rights movements.
At Lancashire Teaching Hospitals we want all of our colleagues to be able to bring their true self to work, and we embrace each individual whatever their preferences.
To mark the beginning of LGBT+ History Month we spoke to Shona Thompson, a HCA and third-year nursing student at the Trust, who shares her experience of living as a transgender person.
Q. Hi Shona, how important is LGBT+ History Month to you?
"I think it's important for everyone in the LGBT+ community to be recognised and included in the workplace, to be accepted for who they are, and not judged on who they are.
We're in the 21st century and it's unfair that people are still judgemental – I'm still often judged. I experienced a situation last year where someone was making some derogatory comments as I was making the decision to come out and because of these comments it forced me to come out as transgender quicker.
I think it's important that as a Trust we mark LBTQ+ History Month not only to show support of the community's history, but also as a way to learn and move forward towards a more inclusive environment for all."
Q. Have you found things have improved for the LGBT+ community over the last couple of years?
"Things are improving, but there is still a long way to go as there are still some outdated therapies and opinions which don't respect individuals – they're trying to change a person that doesn't want to be changed.
As the years have gone by things have changed, and I'm currently hoping to be referred for gender identity surgery. Sadly I will have to go private for this to get my treatment started as there is a long waiting list of about four and a half years. I can't wait, I've waited long enough. I've known I've been transgender since the age of about 10 or 11.
During my placement at the Trust my colleagues have been very accepting of who I am – there was no gender-shaming, misnaming or mis-gendering me, the team have been amazing."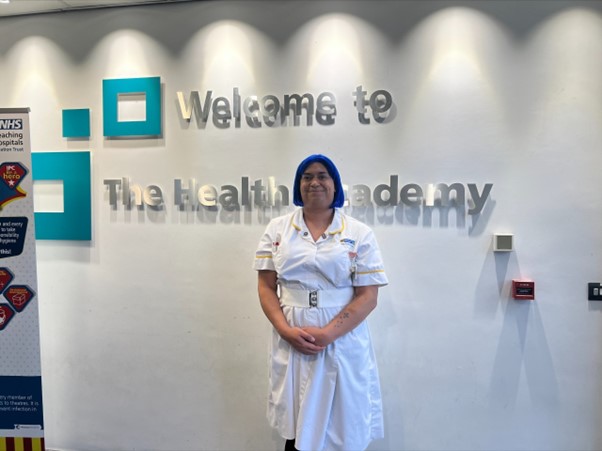 Q. Tell us a bit more about your experience as a transgender person in the NHS
"It was a bit difficult at first in terms of my identification on Trust records which took a couple of months to get sorted out but once our Equality, Diversity and Inclusion lead got involved it was escalated and sorted out quickly.
We need more allies in the Trust like that who are transgender friendly, as well as LGBT friendly., I know we have the Rainbow Badge scheme for those who are part of the community or are allies, but I think this needs rolling out from the beginning of someone's career journey in the Trust..
Learning about the LGBTQ+ community and inclusivity should be a part of the Trust induction with its own module.
During my training I came across a transgender patient, which was amazing, a transgender nurse looking after a transgender patient. They felt comfortable with me and it reminded me of the reason I got into nursing – I have a caring heart and nature and care about my patients.
When I come in in a morning, I make sure my patients have everything they need, and when I hand over, I make sure they've had all the care they need that day."
Q. What can our community learn from LGBT+ History Month?
"The message is gradually getting through, during February we can learn to love our colleagues and accept them for who they are. We are human beings, people – treat us like you would your best friend or a member of your family.
I would like to see more education on LGBT and especially on transgender in general, and the NHS can play a big part in that education.Coming out last year was a big difference, a big change for a lot of people. One day I was Sean, the next Shona.
People need some sort of training on how to approach LGBT members in the workplace – if you approach them wrongly, you will cause some detrimental effects so I hope this LGBT+ History Month we can all learn how to create a more inclusive environment for all."