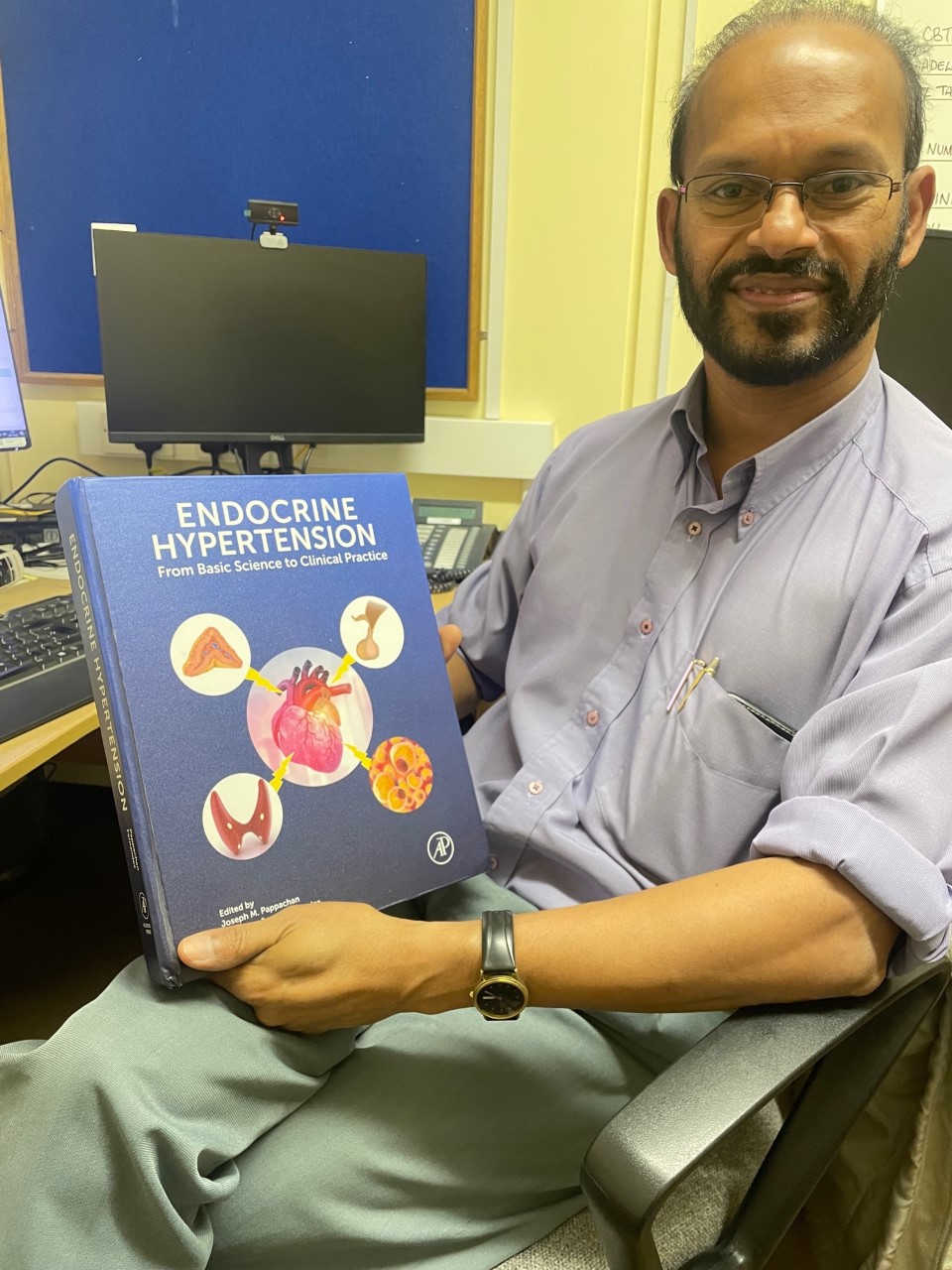 The textbook 'Endocrine Hypertension: From Basic Science to Clinical Practice' is the result of a year's hard work in his 'free' time.
And Professor Joseph M. Pappachan MD, FRCP – a consultant endocrinologist at Lancashire Teaching Hospitals NHS Trust and honorary professor at Manchester Metropolitan University – hopes his labour of love will "potentially change the scenario for the treatment of hypertension."
Hypertension is often referred to as the "silent killer" – with the World Heart Federation describing it as "the number one risk factor for death globally affecting more than one billion people, accounting to about half of all heart disease and stroke-related deaths worldwide."
'Endocrine Hypertension: From Basic Science to Clinical Practice' was co-written with Dr. Cornelius James Fernandez MD, MRCP, also a consultant endocrinologist, at Pilgrim Hospital, United Lincolnshire Hospitals NHS Trust, Boston, who was Professor Pappachan's MD classmate at Coimbatore Medical College in India from 1998 to 2001.
In promotional material, it is claimed the textbook "bridges the gap between scientists and practicing clinicians by providing a comprehensive overview on all forms of endocrine hypertension, covering epidemiological aspects, pathophysiology, clinical presentation, laboratory evaluation and practical management aspects of endocrine hypertension."
And Professor Pappachan is proud to see the tome in print, hoping it will be a great resource for endocrinologists, physicians, general practitioners and researchers who are eager to understand the complex facets of endocrine hypertension, which is common, but often overlooked.
He has vast editing experience, and has authored more than 100 peer-reviewed articles in various medical journals and textbooks, and explained how the textbook came into being: "This is the outcome of one year of immense hard-work during my personal hours, at evenings and weekends, without compromise of my clinical work as full-time clinician without any dedicated academic time in this Trust.
"I contributed a chapter to a text book on endocrine hypertension from Karolinska Institute (a research-led medical university in Solna, the Swedish academy that decides the Nobel Prize in Medicine and Physiology every year), and they have a series of text books called Advances in Internal Medicine.
"Seeing that highly-cited and highly-downloaded chapter, Elsevier contacted me to write a book on endocrine hypertension early last year.
"I started communicating with them, they gave me a draft plan of all the things I had to do, and I did the proposal with my co-editor (Cornelius Fernandez) with the chapters and potential authors.
"We thought we would do it, and started communicating with authors, and after the proposal, we had it peer reviewed by three senior scientists across the world, to see whether it had a good market value.
"I'm a full-time clinician, my passion is to do clinical work, but academic work is part of my clinical work as I learned new things.
"Evenings, weekends, I spent my time in front of the computer!"
That requires an understanding family, and he smiled: "The family were very supportive - my wife is a dentist, she has a PhD and has done academic work in the past, and my son is a medic, doing his training in Portsmouth, and my daughter is doing her graduation in neuro sciences."
The subject matter could scarcely be more important: "The burden of the disease is huge, from recent evidence, about 1.28 billion, around the globe, a fifth of the global population, have high blood pressure.
"It is a big killer, and hormone related hypertension basically is potentially curable, especially if you identify it earlier.
"Awareness among professionals is quite low, including endocrinologists unfortunately, but recent evidence is emerging that gives us more areas to work on – screening tests are not cheap, but it is potentially curable if you do it appropriately.
"Potentially you could save millions of lives, curing hypertension improves the quality of life and avoid complications.
"Because of the lack of awareness, it is grossly under-diagnosed, so we are heightening awareness across the globe."
The textbook has been a global effort: "This awareness is recently emerging among scientific professionals, based on the work of a few researchers, including Professor Michael Stowasser from Australia, who did the concluding chapter of the test book, Systematic Approach for the Diagnosis and Management of Endocrine Hypertension.
"He identified that one of the important causes of endocrine hypertension was primary aldosteronism, or Conn's syndrome, which accounts for about 10% of cases of hypertension at general clinics, and specialist clinics about 20%.
"With his work, and work from our colleagues in London, Bart's (St Bartholomew's) and Professor Morris Brown, and Professor John Newell-Price in Sheffield, they have exclusive dedicated hypertension clinics, and endocrine hypertension work up, plus one of our authors from Italy, Professor Franco Mantero, and one of the current endocrine society guideline makers, Professor William F. Young, they all did a lot of work.
"It is emerging as a very important topic, and potentially will change the scenario for the treatment of hypertension."
The implications of the research could be huge: "Hypertension and diabetes are the biggest killers, based on the risk of cardiovascular complications, and most stroke and heart attacks, if you look at the prevalence of hypertension and diabetes, if you cure or early detect and prevent these major disorders, the cardiovascular risks, and mortality, will come down massively.
"Hypertension is a silent killer, most patients will not be aware they have it unless you screen them, and most get complications by the time they get diagnosed, and often they won't have many symptoms until those complications occur."
While the textbook is now available as a great resource for endocrinologists, physicians, general practitioners and researchers who are eager to understand the complex facets of endocrine hypertension, Professor Pappachan is also set to travel the globe to spread the message: "I am going to present this text book and speak in India in January, the largest conference in India, where there will be 10,000 physicians from across the country, the Annual Conference of the Association of Physicians of India in Ahmedabad.
"And I have suggested this topic to the American Endocrine Society Conference in Chicago."