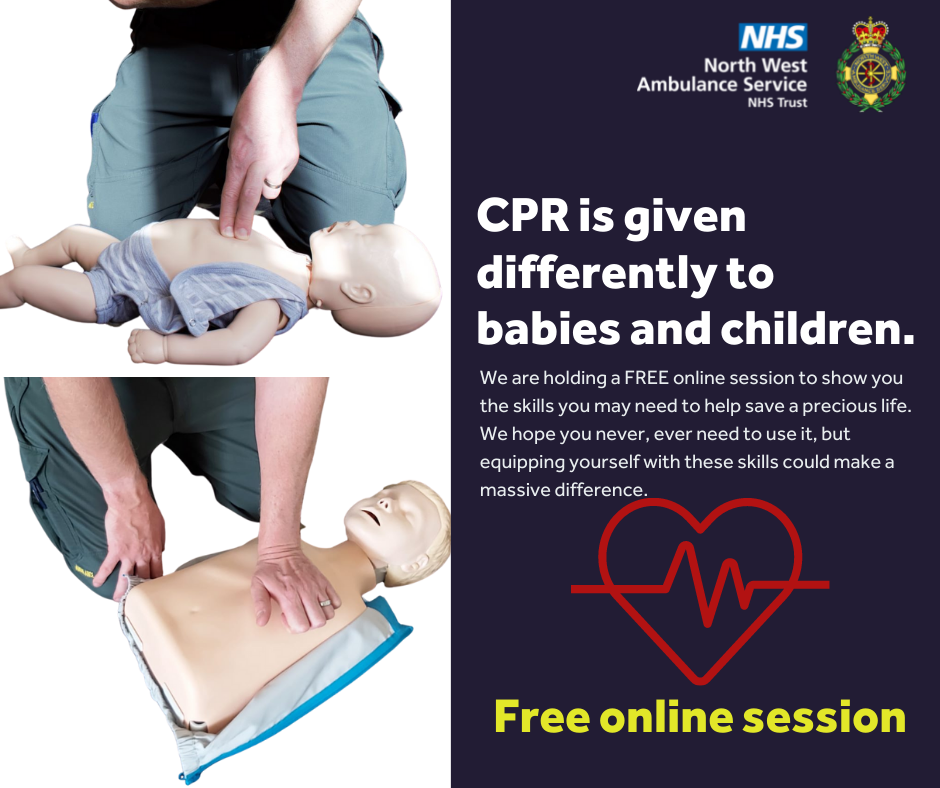 For parents / guardians / carers / teachers
What and when?
North West Ambulance Service NHS Trust is holding an online session on cardiopulmonary resuscitation (CPR) for babies and children as it is given differently to adults. You can join in and learn to be a lifesaver – all you need is a cushion, access to the internet, Microsoft Teams and 45 minutes.
Last year we held our first live online events on Teams demonstrating how to do CPR to mark the Resuscitation Council's annual Restart A Heart Day. The sessions were attended by hundreds of people, many of whom asked us in the feedback Q&A if we could host a dedicated session on how to perform CPR on babies and children.
If you are with a baby or child who has a cardiac arrest, there are a few vital minutes to save them – Knowing what to do can increase their chances of survival. It's highly recommended that every parent and guardian knows how to do CPR. This is why we're holding an online session that is open to the public, which will give you the skills to save a life.
In the session, Community Engagement & Resuscitation Manager/Paramedic David McNally will talk you through exactly what to do in the event of a cardiac arrest, including a demonstration of how to do cardiopulmonary resuscitation (CPR) and how to use a defibrillator on babies and children.
David says: "Every single second counts in the event of a cardiac arrest as chances of survival are reduced by 10 percent with each passing minute, which is why it's so important that members of the public can step in and begin life-saving CPR even before we arrive on scene.
"The aim of the training sessions is for more parents, guardians and relatives to feel confident enough to step in and help when the worst does happen, which will ultimately save lives."
We're holding the event on Thursday 13 October 10:30am. Just click on the link and follow the joining instructions below:
Public event (13 Oct, 10:30am)
Joining instructions
On your desktop
When you click on the link, you'll be taken to a page which gives you the choice of installing the app or watching via the website – it's up to you which one you would like to do!
If you're already signed into Teams or any Outlook account it will ask you for your password to continue, otherwise you will see the below screen. Just click 'join anonymously' if you don't have an Outlook account.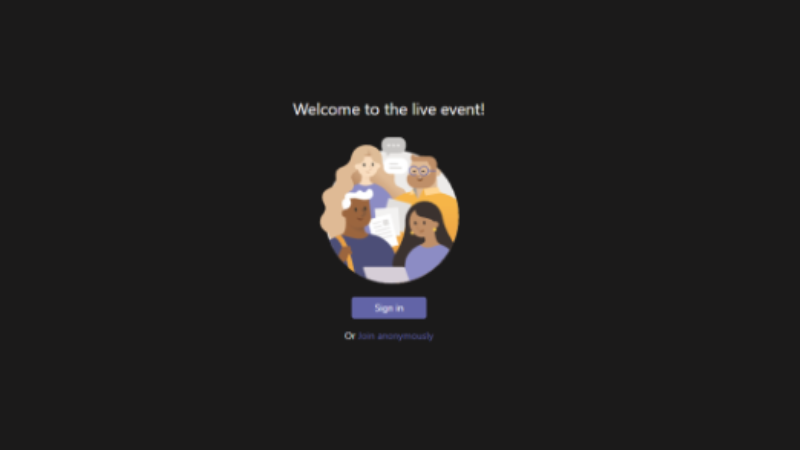 You'll then be taken to the live event. Don't worry if there's no one on screen yet, it will start automatically once we've gone live.
On a mobile device (phone or tablet)
You will need to download the Teams app to join the event, so try and do this a little earlier if you can.
Once you've clicked on the relevant link above, just follow the instructions to download. Don't worry, the app is completely free. If you aren't signed up to Outlook already, you'll have the option to create a free account so that you can join us live.
In the event of a cardiac arrest, it is important to dial 999 as soon as possible and our emergency medical dispatchers will give all the necessary instructions. They will also advise if a defibrillator is nearby and how to access it.