Movements Matter: feeling your baby move is a sign that they are well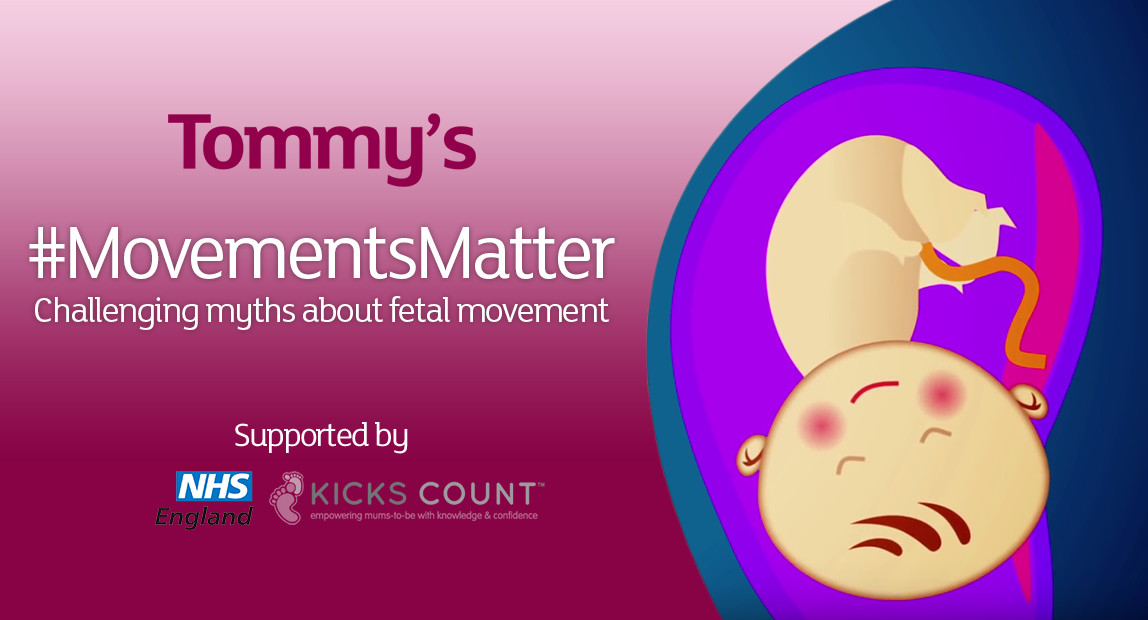 The #movementsmatter campaign, launched by the charity Tommy's, challenges dangerous myths about baby movement during pregnancy, and tells mums-to-be what to do if they experience a change in their baby's movements. The campaign is supported by NHS England and Kicks Count.
A baby moving during pregnancy can be anything from a flutter, kick, swish or roll and these movements are signs that your baby is well. Most women usually begin to feel their baby move between 16 and 24 weeks of pregnancy.
If your baby is unwell, they may save energy by slowing down their movements.
This can be the first sign of a problem.
Two out of three women who had a stillbirth noticed their baby's movements had slowed down or stopped.
There is no set number of normal movements. Your baby will have their own pattern of movements that you should get to know. From 16-24 weeks on you should feel the baby move more and more up until 32 weeks, then stay roughly the same until you give birth.
It is not true that babies move less towards the end of pregnancy.
You should continue to feel your baby move right up to the time you go into labour and whilst you are in labour too.
Get to know your baby's normal pattern of movements.
If you are worried about your baby's movements do not wait until the next day to seek advice. Contact:
Sharoe Green Unit Triage: 01772 524495
Do not try to make your baby move. If you suspect that movements have slowed, let us know.
Do not use any hand-held monitors, Dopplers or phone apps to check your baby's heartbeat. Even if you detect a heartbeat, this does not mean your baby is well.
Please watch the video clip and share with your friends and relatives.
There is a leaflet you can download as well: 'Feeling your baby move is a sign that they are well'
Never hesitate to contact us for advice, no matter how many times you are worried about your baby's movements. We are here to help, 24 hours a day, 7 days a week.
You can find more information about Tommy's charity via: www.tommys.org
The above leaflet is also available in various other languages:
Albanian: Feeling your baby move is a sigh that they are well in Albanian
Amharic: Feeling your baby move is a sigh that they are well in Amharic
Arabic: Feeling your baby move is a sign that they are well in Arabic
Bengali: Feeling your baby move is a sign that they are well in Bengali
Bulgarian: Feeling your baby move is a sign that they are well in Bulgarian
Chinese: Feeling your baby move is a sign that they are well in Chinese
Farsi: Feeling your baby move is a sigh that they are well in Farsi
French: Feeling your baby move is a sign that they are well in French
German: Feeling your baby move is a sign that they are well in German
Hindi: Feeling your baby move is a sign that they are well in Hindi
Hungarian: Feeling your baby move is a sign that they are well in Hungarian
Indonesian: Feeling your baby move is a sign that they are well in Indonesian
Italian: Feeling your baby move is a sign that they are well in Italian
Kurdish/Somali: Feeling your baby move is a sign that they are well in Kurdish/Somali
Latvian: Feeling your baby move is a sign that they are well in Latvian
Lithuanian: Feeling your baby move is a sign that they are well in Lithuanian
Polish: Feeling your baby move is a sign that they are well in Polish
Portuguese: Feeling your baby move is a sign that they are well in Portuguese
Punjabi: Feeling your baby move is a sign that they are well in Punjabi
Romanian: Feeling your baby move is a sign that they are well in Romanian
Russian: Feeling your baby move is a sign that they are well in Russian
Slovak: Feeling your baby move is a sign that they are well in Slovak
Sorani: Feeling your baby move is a sign that they are well in Sorani
Spanish: Feeling your baby move is a sign that they are well in Spanish
Tigrigna: Feeling your baby move is a sign that they are well in Tigrigna
Turkish: Feeling your baby move is a sign that they are well in Turkish
Urdu: Feeling your baby move is a sign that they are well in Urdu
Vietnamese: Feeling your baby move is a sign that they are well in Vietnamese