Pride Blog
All You Need Is Love
By Alison Cookson - Patient Experience and Involvement Lead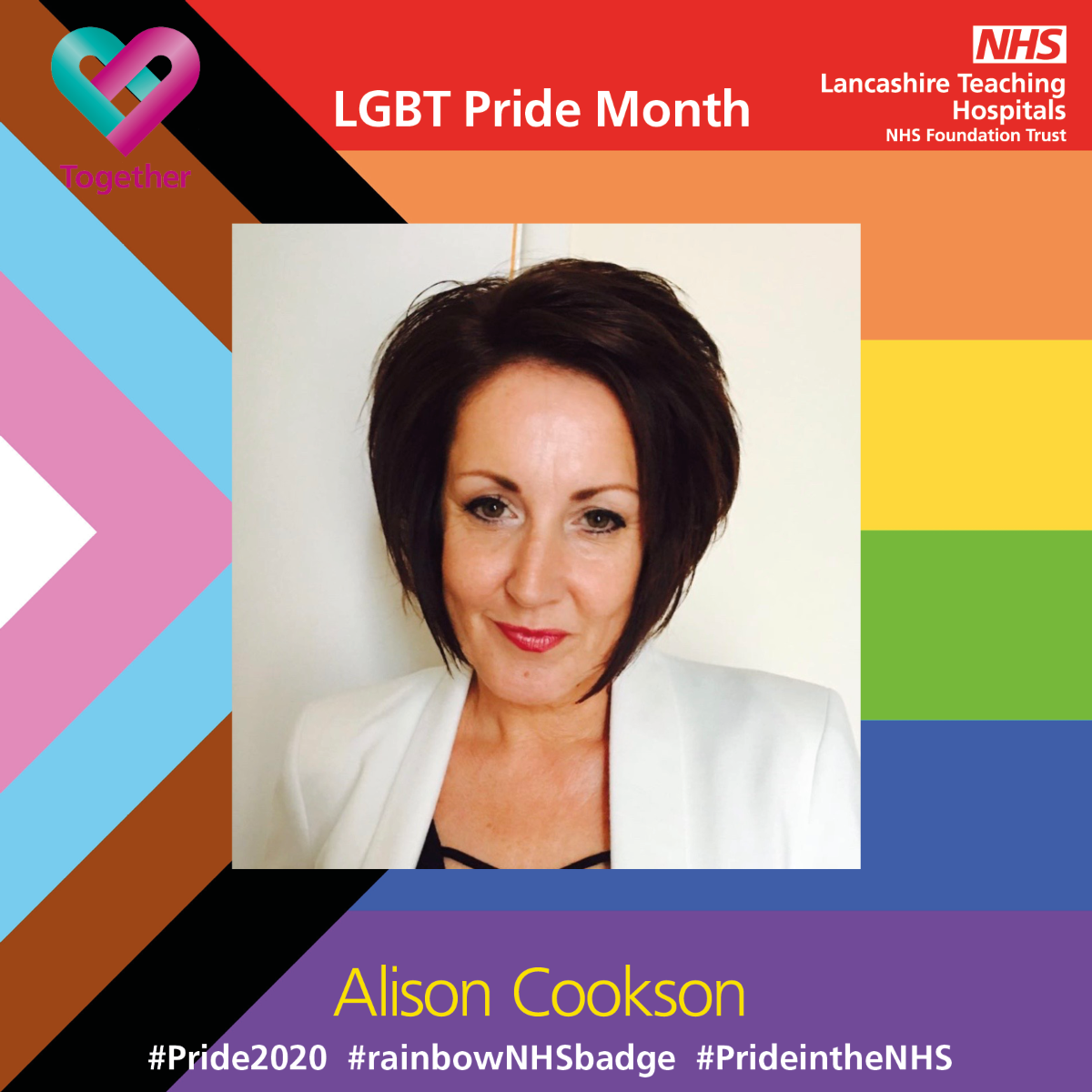 I am Alison and I have worked for LTHTR for nearly 16 years. And I am so glad that I work for an organisation that supports my beliefs.
I am not the best at putting my feelings on to paper, and explaining what I think and feel about love and I won't use big words and definitions about diversity, and when I was younger I never understood the big thing with 'PRIDE' because love is love... Isn't it?
I learnt over the years that not everyone thinks like me and everyone is entitled to their own opinion of course; however I discovered that some people's opinion was that if you didn't fall into what they perceived as the 'norm' in society you were classed as different and different was uncomfortable!
Looking through the history of PRIDE and the struggles people had to suffer just to be themselves, wow!! These brave people stood up and said this is me, this is who I am and I am proud. And I, as a straight ally will always stand shoulder to shoulder with the LGBTQ+ community. Could you even imagine someone telling you it wasn't right to love a person, or that you had to stay the gender you were at birth even though your whole being was screaming out to you that it wasn't right?
For us all, life can be hard sometimes and we all have doubts and struggles about who we are, what we do and who we love. Isn't it absolutely wonderful that finally society seems to be getting this right.
So let's just celebrate love, individuality and the freedom to be who we want to be.
In the words of the fab four - 'All you need is love'
What Pride means to me
By Alison Wren - Head & Neck Medical Secretary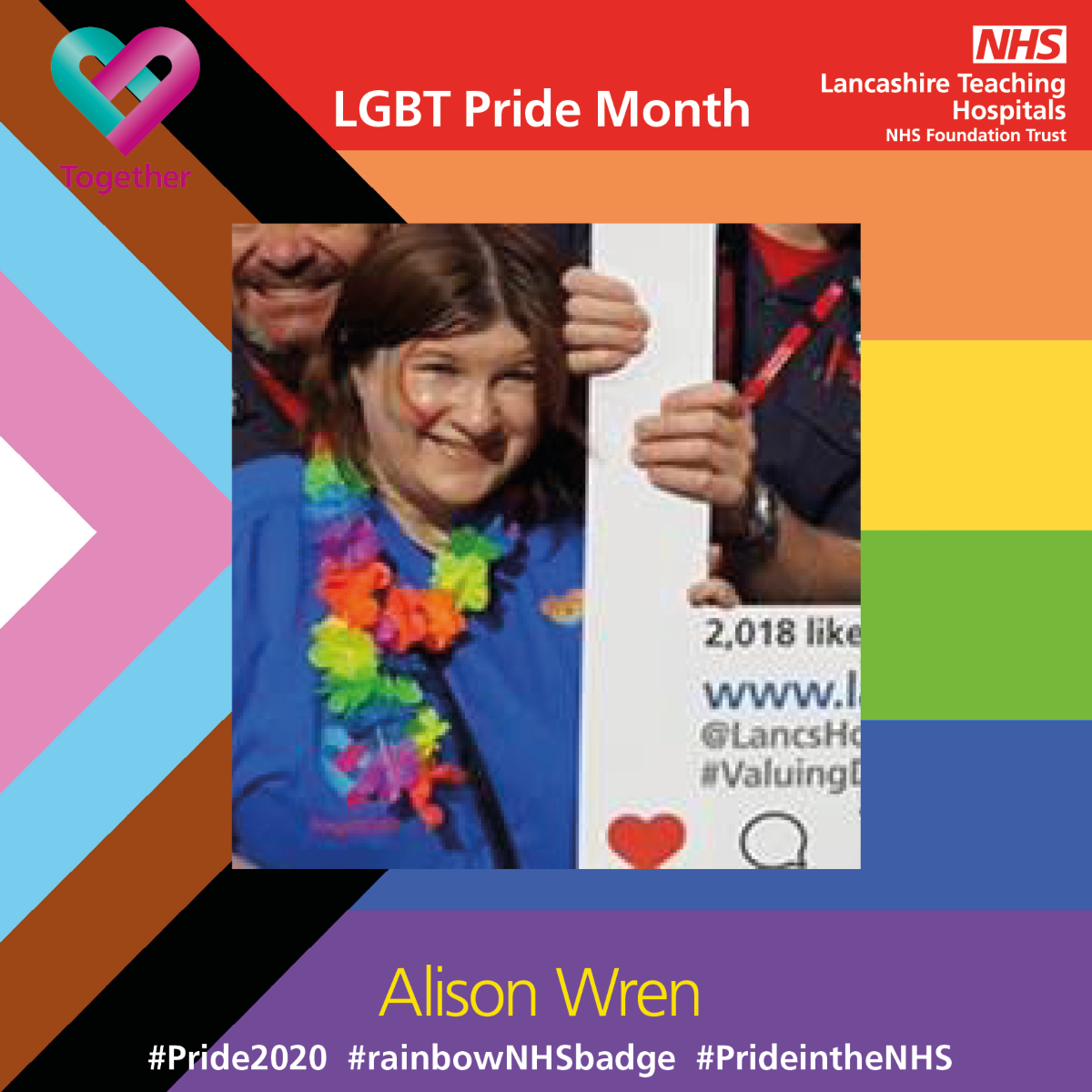 My name is Alison Wren and I am part of the LGBTQ+ community and have worked within the Trust for 25 years.
PRIDE represents a powerful message as well as a celebration of the whole of the LGBTQ+ community, championing our voices and helping to pave the way forward to change people's perceptions for equality. The annual PRIDE events also mean that many in the community can celebrate and feel safe and supported in an environment without fear of prejudice or being judged for who they are. Even in these current times with an ever increasing positive shift towards equality within the UK it is still difficult to see and hear how much hostility there can be. The media will sometimes report on the horrific aftermath of physical homophobic attacks but verbal attacks or feeling excluded can also be very distressing.
At work I feel extremely supported by Mandy Davis in the Diversity and Inclusion team and also with Barrie Morgan-Scrutton who is the LGBTQ+ Staff Ambassador within the Trust. The Staff Ambassador forums are invaluable way of bringing people together and gathering thoughts and ideas of how we can also help to make both the workforce and patients feel supported. One of which in the LGBTQ+ forum which was the introduction of the rainbow badge to show a wider level of support as well as being part of Preston Pride and showing that the Trust supports diversity and inclusion and wants to celebrate it too!
2020 has proved to be a challenging year in so many ways and the cancellation of a lot of PRIDE events will undoubtedly affect many in the LGBTQ+ community who may already be struggling. In what would have been the week of Preston Pride the LGBTQ+ staff ambassador group want to send the wider message that they're here to help during this difficult time as well as continuing to provide ongoing support. It is also an opportunity to reflect on the success of previous PRIDE celebrations and look ahead and forward to future ones too.
What Pride means to me
By Mandy Davis - Head of Diversity, Inclusion and Blended Learning
I am proud to be a 'Straight ally'. Stonewall (the leading lesbian, gay, bisexual and transgender (LGBT) rights charity) describes straight allies as "heterosexual people who believe that lesbian, gay and bisexual people should experience full equality in the workplace. Allies recognise gay people can perform better if they can be themselves and use their role within an organisation to create a culture where this can happen; they might be at the very top of an organisation or a colleague in a team. Either way, they recognise that it's not just the responsibility of gay people to create a workplace culture that is inclusive of everyone".
For me personally, being an LGBTQ+ ally is about recognising where my experience differs from those whose sexuality is different to mine, it's about really listening to the lived experiences of the LGBTQ+ community and it's about working to create a supportive and inclusive culture in our organisation where difference is valued and celebrated for the benefit of both our people and our patients. Over the last 12-18 months I have become increasingly more aware of my privilege as a straight (heterosexual) person. Now I know some people don't particularly like the word 'privilege', it doesn't mean you have lived your life without any hardship or difficulty, or with a 'silver spoon in your mouth', but it does mean that you have not had to think twice, face or confront a wide number of things because of your sexuality (or because of what others think your sexuality is) such as;
Being able to kiss, cuddle or hold hands with your partner socially or publicly and not be fearful of a hostile or violent reaction from others
Living with your partner openly
Seeing relationships like yours represented on mainstream television or in films
Seeing role models of your gender and sexual orientation in work or in the public eye
Expecting to be around others of the same sexuality most of the time; not worrying about being the only one of your sexuality in your work team or in a social setting
Assuming strangers won't ask intimate details about your sex life
Not having to hide or lie about your life/your life outside of work
The list goes on.
I remember reading through evaluations from a Valuing Diversity day (one of the first events I organised in this role) a couple of years ago when I saw an anonymous comment which really stood out and which has stuck with me since. I was asking attendees for their thoughts in respect of why people didn't disclose their sexuality, religion or disability on our electronic staff record and this one person had noted in the comments that they were a gay woman yet no-one in their team knew. They shared that, on their first few days with the Trust, a colleague had asked them "Do you have a boyfriend?" They replied to say they didn't. This person went on to note that, at the time of the event, they had been working in our Trust for a number of years and they reflected the stress associated with colleagues not knowing about their partner or their sexuality (and them not feeling able to say) saying it was "always in the back of my mind". Thoughtless comments such as "I don't understand all this LGBQXYZ stuff" and "ooh that looks a bit butch" had made them feel increasingly uncomfortable, and probably at that point far less likely to feel able to disclose their sexuality.
The power of words. There are less than 20 words altogether in those three statements yet they say so much don't they? This person's colleague had made an assumption - the assumption being that the colleague they were talking to was straight and that they might have a boyfriend. The inference being that straight equals 'normal', 'the same' or 'accepted'. The difficulty for this colleague, as a new staff member, might have been considering whether they wanted to stand out as someone different to that norm in their first few days or weeks. Not surprisingly they chose to say nothing.
If you are straight, try to imagine coming into work every day with the weight of that hanging over you - constantly checking what you're saying to colleagues when they ask how your weekend was, for fear of disclosing something you don't really feel comfortable to disclose. Imagine never feeling able to talk about your partner? Or never taking them to a work social event or get together? How tiring must that feel? To feel as though you have to hide a significant part of your identity, of who you are, for fear of the reaction from colleagues. For fear of your relationships deteriorating once your colleagues 'know'. Of course, this applies to the whole of the LGBTQ+ community, to colleagues who are bisexual or transgender. Based on this alone, it comes as no surprise to me to see evidence suggesting the LGBTQ+ community may be more susceptible to experiencing poorer mental health. If you are able to commit to one thing moving forwards please take a moment to think about what you say, what assumptions you are making and who you might inadvertently be excluding as a result.
Love is love.
Why Pride is Important
My name is Barrie Morgan-Scrutton and I am an out gay married man. I work with in the Education Information team based at Chorley. I am a staff ambassador for LGBTQ+ (Lesbian, Gay, Bisexual, Transgender, Queer/Questioning) within the Trust and one of the leads for Preston Pride Trust entry.
At work, I wear my UNISON pride lanyard and my NHS rainbow badge, to show my colleagues and patients that I am a safe person to speak to, if they are part of the LGBTQ+ community. Wearing this gives me a great sense of pride that I am able to be open and out within the Trust.
Pride is important to me as it is a celebration of the whole of the LGBTQ+ Community and for who we are and what we represent. It shows the full diverse spectrum that are part of this community. But there is another side of pride where it is a protest to so that the fight for equal rights and to reduce the heteronormativity of the world we live in.
This protest was started in late June 1969 at the Stonewall Inn gay bar in downtown New York where the patrons fought back against excessive police harassment largely led by a black and Latino drag queen. From this point there was an uprising of the LGBTQ+ community to fight for their rights for full equality.
As now, pride is seen as a celebration, this is not the case in many countries over the world where it is still a criminal offence or are killed/ tortured for being who you are, a member of the LGBTQ+ Community.
For me, pride has come a long way through the many different struggles and triumphs, but there is still a long way to go until we get full equality, for the whole LGBTQ+ community.
Within the Trust we need to bring together out LGBTQ+ Community and use the knowledge and experience to education and enlighten the WHOLE of the Trust, so we are ALL able to bring our WHOLE AUTHENTIC SELF to work.